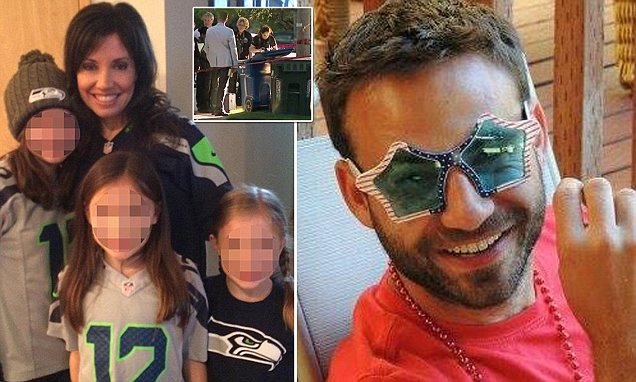 Ingrid Maree Lyne: A third set of body parts are found at a local Seattle recycling center in the same plastic bags from the murdered woman's home and two other locations.
Seattle authorities have told of finding a third set of body parts that they believe belong to murdered mother of three, Ingrid Maree Lyne after dating John Robert Charlton, a local Snohomish County man she'd recently met on an online dating site.
According to a report via nbc, authorities believe it's highly probably that the parts found Monday morning at a recycling center near the woman's Renton, Washington home were those of Ingrid Lyne who came to be chopped up Friday week ago after returning home with her online date, John Charlton.
The latest discovery of human at a recycling center on the 200 block of South Hanford Street in south Seattle.
Told a press release issued by Seattle police: 'Police believe it is probable the remains are connected to the ongoing investigation into the murder of the 40-year-old Renton woman.'
New Ingrid Lyne body parts found by trash collector confirmed
'Facing 28 years' Ingrid Lyne's online date John Charlton charged first degree murder
Ingrid Lyne murder: Was John Charlton really too drunk to tell?
John Charlton: 'I dismembered Ingrid Lyne with a 15 inch pruning saw'
Why did John Robert Charlton murder Ingrid Lyne?
#BREAKING: @SeattlePD finds human remains at garbage transfer station in #SODO. Possibly of Ingrid Lyne #Q13FOX pic.twitter.com/l5zyUtO3Gz

— Steve Kiggins (@Q13FOXKiggins) April 18, 2016
The new findings come after authorities told of finding further body parts over the weekend close to where initial body parts, including a severed head, leg and arm were found a day after Ingrid Maree Lyne went on her date.
Those body parts were found on April 9 near 21st Avenue and Pine Street by a local neighbor circa 4pm that afternoon after police had fielded calls for Ingrid Lyne's missing whereabouts after the single mother failed to collect her three daughters at her ex husband's home earlier that morning.
Upon his arrest the following Monday, John Charlton told investigators that he drank alcohol to the point of blacking out that night and woke up the next morning on a sidewalk in Seattle, not sure how he got there. When he was arrested, he had scratches on his chest, hand and forehead, and injuries to his face, police said.
Seattle detectives found traces of blood and a 15-inch pruning saw in her bathroom of her Renton home, as well as an almost-empty box of garbage bags identical to the ones the body parts have since been found in three separate locations.
Since being charged with first degree murder, John Robert Charlton has been remanded in custody in lieu of $2 million bail whilst a gofundme fund started for the slain mother's three daughters as of Monday night EST has raised $228, 625.