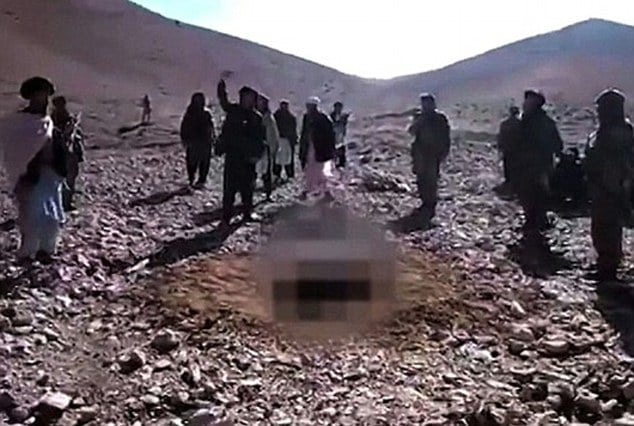 A Yemeni woman has been stoned to death at the hands of Al-Qaeda after being found guilty of adultery and prostitution by a Sharia court.
The married woman's public execution reportedly took place in the city of Al Mukalla which has been under the control of the Islamist terrorist group in the Arabian peninsula (AQAP) since April last year.
Video: Afghan woman stoned to death after eloping
Pratibha Khan, Indian teenage girl stoned to death cause she loved someone from the wrong village.
Farzana Parveen, pregnant Pakistani woman stoned to death for marrying the man she loved
Fatoum Al-Jassem, Syrian girl stoned to death for using Facebook.
Muslim girl stoned to death for participating in beauty pageant.
Pictures: ISIS stones to death couple accused of fornication before marriage.
Iranian Woman Sentenced to Death by Stoning Gets 99 Lashes As Well
Witnesses tell of Al- Qaeda militants having 'placed the woman in a hole in the middle of the courtyard of a military building and stoned her to death in the presence of dozens of residents.'
According to a report via the dailymail, the  married Yemeni woman's stoning death came after a December appearance in front of a Sharia court where the woman allegedly 'confessed in front of the judges to committing adultery.'
The verdict describes the woman also admitting 'without any coercion that she practiced prostitution, as a pimp… and that she worked with a group of women in brothels'.
The verdict also noted the woman confessing to smoking hashish.
Upon appearing in front of the terrorist Sharia mandated court, the woman was sentenced to death by stoning for 'committing adultery as a married woman… and eighty lashes for consuming hashish'.
Told witnesses: 'This was the first time we have seen such a thing.'
AP tells of gunmen having prevented photography of the execution.
According to Islamic sharia law, married men or women can be stoned to death for having sex outside wedlock, while those who are unmarried face being lashed.
Stoning as a method of execution have been reported in areas controlled by militant Islamist groups across the Middle-East, including Islamic State (ISIS) controlled areas in Syria and Iraq, as well as Taliban territory in Afghanistan.
News of the Yemen woman's stoning death comes amidst reports of heavy fighting in Yemen's second city of Aden where fighters believed to be close to al-Qaeda clashed with pro-government forces over the weekend at Aden's port, killing 17 people.
The incident comes after a week after AQAP militants allegedly killed a woman in the southern port city of Aden after accusing her of practicing sorcery, days after ten men were lashed in the city, for consuming alcohol and hashish. 
AQAP is considered by the United States to be the most dangerous affiliate of Al-Qaeda and has been taking advantage of the Yemeni state's weakness to expand its control in several areas, including the vast Hadramawt region.