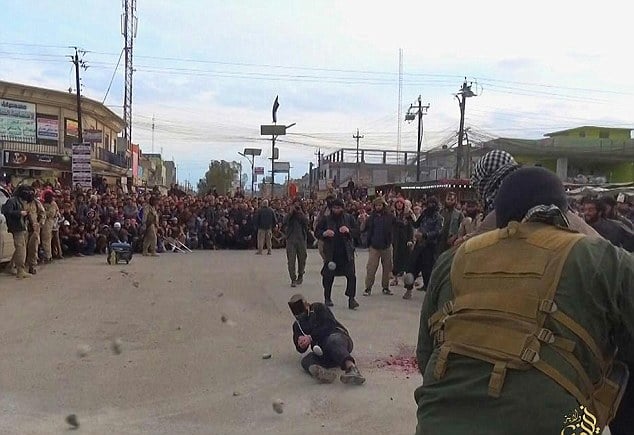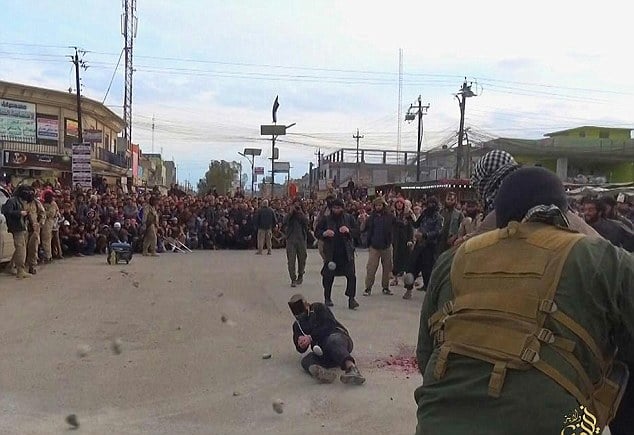 New images have been released purportedly showing ISIS militants stoning to death a blindfolded couple to death in Iraq after the man and woman were accused to have fornicated before marriage.
Said to be taken in the ISIS stronghold of Mosul in Nineveh province, images show a large crowd gathering to watch the militant Islamic group murder/punish the bound couple.
Pictures: ISIS beheads three gay men in Iraq. Two were a couple.
Yemeni boy locked in cage and set alight in ISIS imitation by children.
ISIS throw off another gay man from top of building. Crowds cheer.
Next generation of ISIS video shows 5 year olds training learning how to kill
Pictures: ISIS mob drag three Syrian soldier corpses through streets
In the foreground, the familiar image of ISIS's elderly Mosul based executioner in chief Abu Ansar al-Ansari orders the couple to be stoned to death.
Whilst heavily armed militants patrol the area, young men and boys jostle for the view before joining in the pelting of rocks and stones.
In the background women wearing black niqabs are seen gathering together.
From there reports the UK's dailymail, a militant with a yellow scarf covering their face proceeds to read out the charge of fornication against the couple, sex before marriage.
A large pile of stones are then seen heaped in the middle of the road, before ISIS militants begin throwing them at the blindfolded couple, who have had their hands bound to prevent them getting away.
As stones rain down on the victims' bodies, large pools of blood appear in the road, before eventually the man and woman die of their injuries and the stone throwing finally comes to an end.
At present it is not known when the purported scene took place, why it has necessarily been released and whether the images continue to make up the growing propaganda movement of violent acts which serve to enthrall, divide and solidify the branches position which continues to remain left to its own devices as the US and its allies continue to call for further and continued participation in the region.
Video: ISIS beheads 21 Egyptian Christians in Libya.
Video: ISIS parades 17 Kurdish fighters in cages. Promise to burn alive
Video: ISIS execute Syrian prisoner shotgun point blank.
Video: ISIS behead man for witchcraft. Large crowd gather.
NSFW: ISIS burns captured Jordanian pilot alive video and photos
NSFW: ISIS throw man off roof for being gay then stone him.
NSFW: Female Kurdish freedom fighter Rehana beheaded by ISIS
How Jennifer Williams became the ISIS pin up girl. Blonde tattooed girl from Texas
Aliaa Magda Elmahdy, Feminist activist defecates and bleeds on black ISIS flag
Video: Exiled Iranian women pose nude to protest against sexual oppression
#ISISmediaBlackout: James Foley beheading. Should the media blackout ISIS propaganda?
ISIS orders female genital mutilation in Iraq. Girls from 11 and up
NSFW: Why is ISIS posting mass killing of Iraqi soldiers?