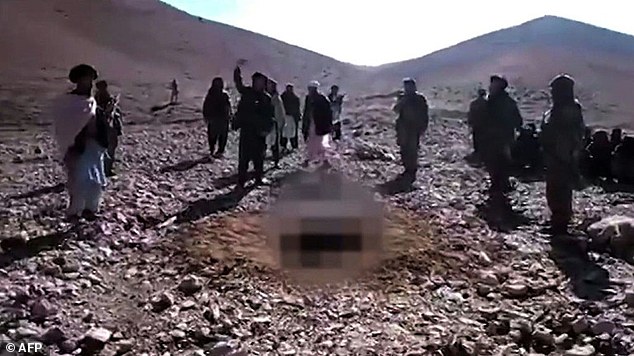 Making the rounds is a video (see below) of a young woman in Taliban controlled area of Afghanistan, Ghor being stoned to death after eloping with a man.
The 30 second video shows the woman, known only as Rokhsahana and thought to be aged between 19 and 21, lying in a hole as a group of around 15 turbaned men 'nonchalantly' hurl stones at her.
As the men pound her with rocks, the woman is heard wailing as the thud of rocks landing against her body carries on.
The killing is said to have taken place on October 25 just outside Firozkoh, the capital of central Ghor province.
Told Governor Seema Joyenda according to a report via AP: 'The footage shown in the media is related to Rokhsahana, who was stoned to death.' 
Adding: 'Involved were the Taliban, local religious leaders and armed warlords.'
Joyenda, one of only two female governors in Afghanistan, said Rokhsahana's family had married her off against her will before she was caught eloping with another man her age.
The man was let off with a lashing, while the woman was sentenced to death by stoning for 'adultery.'
The punishment highlights the endemic violence against women in Afghan society, despite reforms since the Taliban regime fell in 2001.
Reacting to the woman's stoning, Governor Joyenda called on the military to rid the area of insurgents and other armed groups.
She said: 'This is the first incident in this area [this year] but will not be the last.
'Women in general have problems all over the country but in Ghor even more conservative attitudes prevail.'
Shariah law decrees stoning as the punishment for men and women convicted of having sex outside marriage but the penalty is very rarely applied in Muslim countries.
Public lashings and executions were common under the Taliban's five-year rule, when a strict interpretation of Sharia law was enforced.
The Taliban have decline to issue a statement in relation to the stoning in Ghor. 
Long condemned as misogynistic zealots, the militants have recently sought to project a softened stance on female rights, yet recent actions, including the occupation of the northern provincial capital of Kunduz where Taliban death squads were observed 'methodically' targeting a host of female rights workers offers an ominous blueprint of what could happen should they ever return to power.