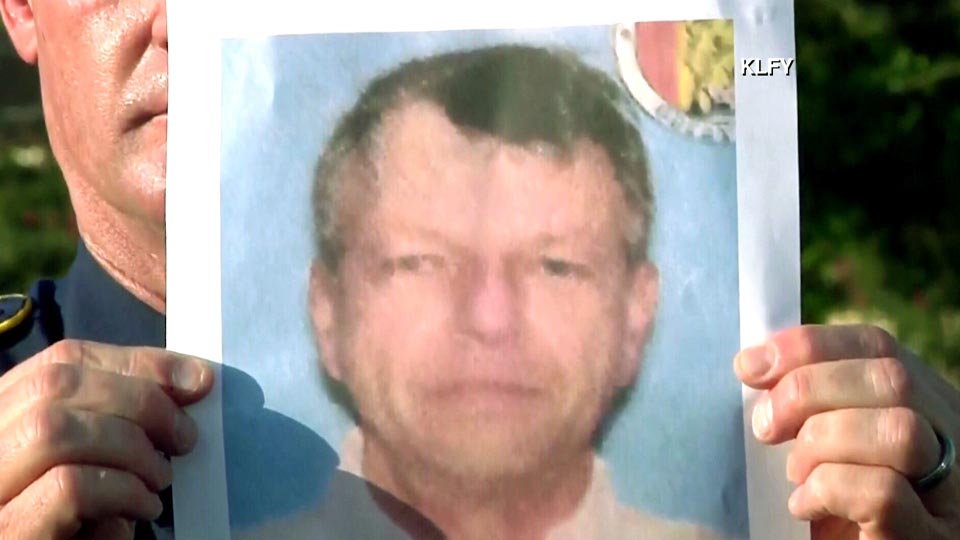 More information is starting to come to light about Lafayette, Louisiana movie theater shooter, John Russell Houser aka Rusty Houser including the fact that the shooter was a former law graduate who was a supporter of the far right Tea Party and the extremist Christian Westboro Baptist Church.
Rusty Houser wife tried to have John Russell Houser mentally committed
Jillian Johnson photos: John Russell Houser victim
Mayci Breaux photos: John Russell Houser victim
Drifter, John Russell Houser is the Louisiana movie theater shooter
Online profiles connected to Houser are revealing disturbing details about the Lafayette shooter, painting a picture of a man harboring extreme ideological views and concerned about American economic policy and declining morals.
'America is so sick that I now believe it to be the enemy of the world. I know next to nothing about Iran, but the little I do tell me they are far higher morally than this financially failing filth farm,' Houser, who goes by Rusty, wrote in a December 2013 post on an apparently conservative Christian website called Fellowship of the Minds.
Also that month, Rusty wrote on his Facebook, asking for help translating Iranian newspapers.
In yet another Facebook post, the killer preached a strict adherence to the Bible, while condemning America at the same time.
'The bible doesn't ask me to like what it says, only to obey it. Death comes soon to the financially failing filth farm called the US.'
Posts on his Facebook page reveals a desire in limiting women's influence over the church, a hatred for American culture, and complaints about liberals 'brainwashing' Americans into hating their own country. Wrote Houser in one post: 'The bible doesn't ask me to like what it says, only to obey it,' 'Death comes soon to the financially failing filth farm called the US.'
Houser also had a profile on the conservative website Tea Party Nation, in which he described himself as 'very conservative' and asked for help finding white-power groups.
In a January 2014 forum post the killer argued the United States needed a right-wing party like Greece's neo-Nazi "Golden Dawn" faction to restore its greatness.
'The financial failings of the US, and the bleak outlook, are known to the world,' Houser argued. 'The average person in the US has not however figured out that the US is employing censorship of the internet. If you type in NEWSPAPERS PUBLISHED IN IRAN, you will see about thirty such publications,none of which are published in their entirety, and none which your computer will translate.It might be permissible to put some political remark at the top of each page claiming bias, but to blackout all is nothing short of base censorship.'
Court records have also revealed that Houser's wife and family asked for a temporary protective order in 2008 against him, for 'extreme erratic behavior' and making 'disturbing statements.' 
Houser 'has a history of mental health issues, i.e., manic depression and/or bi-polar disorder' the filing said.
The filing says Houser 'has a history of mental health issues, i.e., manic depression and/or bi-polar disorder'  and that his wife, Kellie Maddox Houser, 'has become so worried about the defendant's volatile mental state that she has removed all guns and/or weapons from their marital residence.' 
In daunting revelations, family members also tried to have the killer involuntarily committed in 2008 'because he was a danger to himself and others.'
Houser was evicted last year from a rental property on 32nd Street, where his estranged wife owns a home that can be seen flying a Confederate flag on a Google maps search.
It's still uncertain exactly why Houser decided to target the crowd at the screening of Trainwreck, a movie about a young woman struggling with commitment, as he killed himself in the immediate aftermath.
Police say that Houser was a 'drifter' and that his last residence was in Phenix, Alabama. They say he had been staying in a hotel in Lafayette since early July and that his only connection to the area was a uncle who once lived there, but has been dead for 35 years.
While he has a long criminal history, Police say Houser hadn't been arrested very recently. His past charges include selling alcohol to a minor and arson – arrests that date back 10 to 15 years. 
On his LinkedIn profile, Houser describes himself as an entrepreneur who holds degrees in both accounting and law but his last listed job was as a real estate developer nearly a decade ago. The profile also listed the Louisiana shooter as a 1991 graduate of the unranked Faulkner University's Thomas Goode Jones School of Law.
Tributes pour in for Lafayette shooting victims Jillian Johnson, 33, and Mayci Breaux, 21. http://t.co/uNypomGvB0 pic.twitter.com/Lqi1xCT8O8

— New York Daily News (@NYDailyNews) July 24, 2015