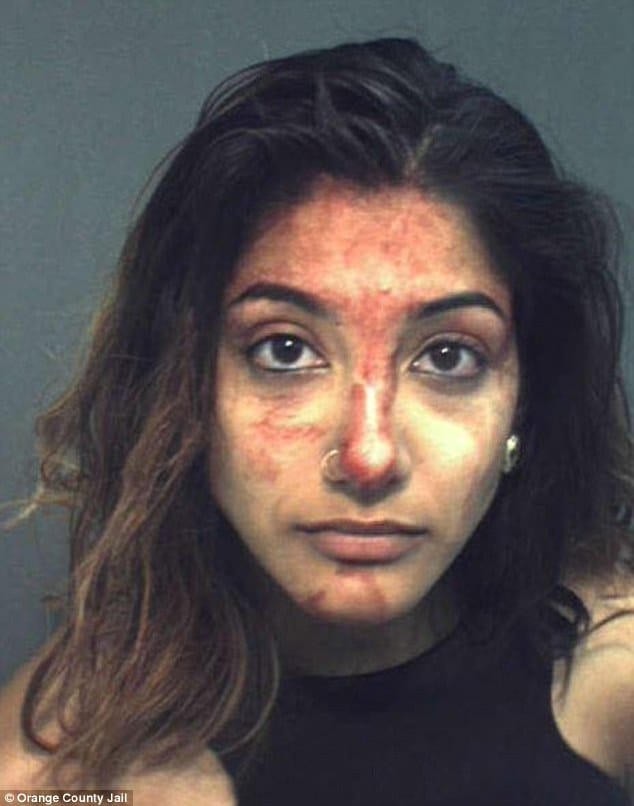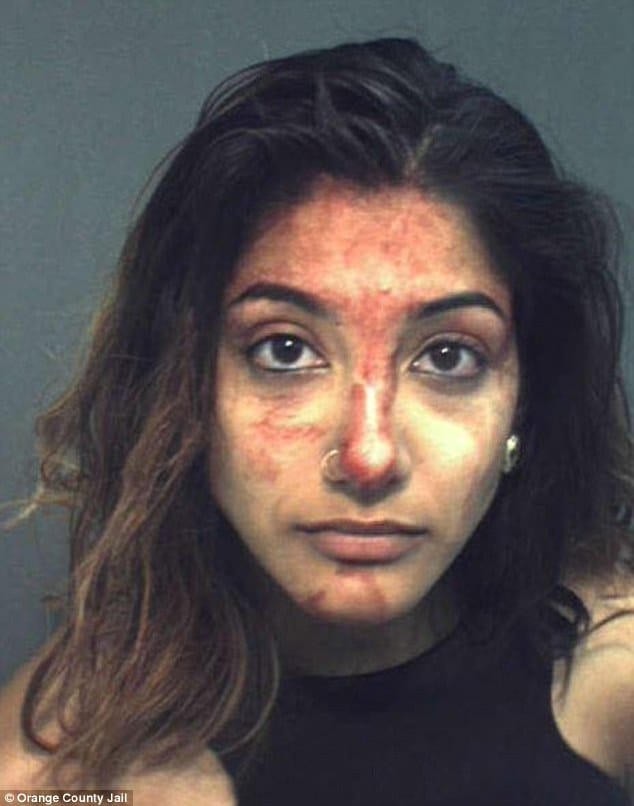 Florida's blood soaked Britney E. Montenegro has entered the happy go lucky ascent for picture perfect mugshots after she found herself arrested in the early hours of Saturday after a bar fight involving a 'multitude of individuals.' Including herself, naturally.
The fight according to the orlandosentinel first started inside a bar before spilling out onto the streets in downtown Orlando along East Pine St and South Court Avenue circa 2.40am.
Suzanne Duarte Happy go lucky mugshot: I wish I burned down the whole yoga studio.
Pictures: Alysa Suguro Bathrick, Xanax dealer: Yes my mugshot is cute!
Sean Kory mugshot the new Jeremy Meeks best looking criminal?
Pictures: Angela Coates mugshot is the new Jeremy Meeks glamor icon.
Arena Arnold thinks she's the best mugshot contender for 2014
Smiling mugshot after teenager lured ex boyfriend into ambush for vicious beating.
Upon the arrival of cops, the 20 year old woman, covered in blood would be arrested, with authorities later noting that the blood on the woman's face was not her own.
Delicious.
Told the arresting officer: 'I took control of her (Montenegro's) arm and conducted an arm-bar takedown technique by controlling her left elbow and her wrist,'
Adding: 'The defendant had a minor abrasion on her fight shoulder. However she was unable to tell me how she sustained the injury,'
'She also had another individual's blood on her from the initial fight.'
It would be alleged our collective hero had initially attacked another woman, 'running at her with her fists raised' before other individuals would come to be involved in the free for all.
Britney Montenegro has since been charged with disorderly conduct, with authorities noting that despite the deluge of blood on her face the woman escaped relatively unscathed. Naturally.
According to her Facebook page, Montenegro is from Queens, New York, and studies at Valencia Community College whilst retaining vocation at Bayhill Eyecare and Eyewear.
Images via facebook