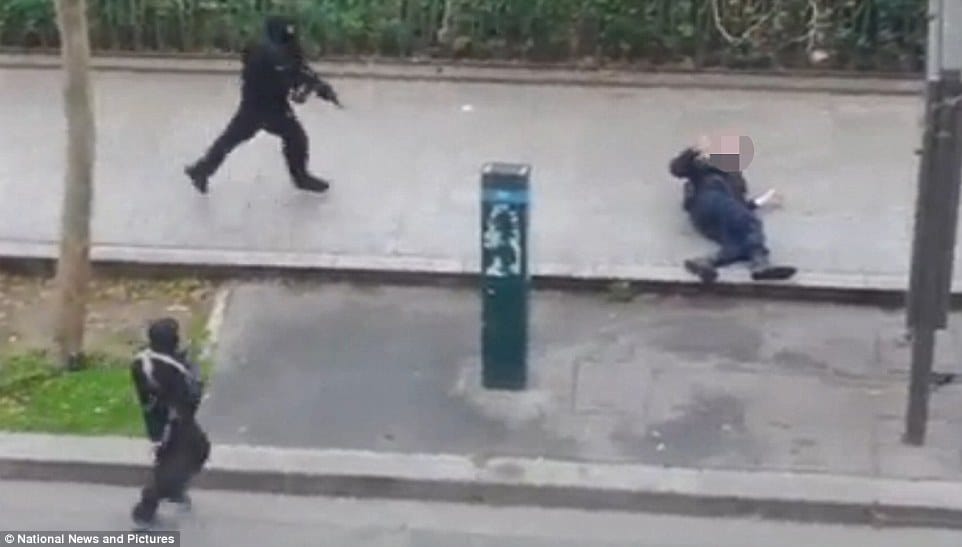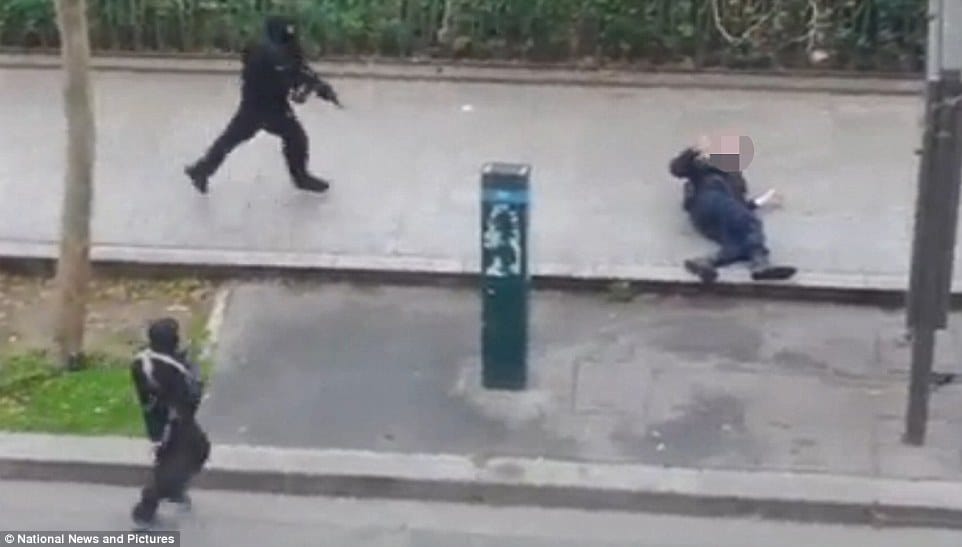 Does it get any more ironic? In the aftermath of Wednesday's dramatic Charlie Hebdo terrorist attacks in Paris, the policeman seen pleading for his life before being shot dead has this evening been identified as 42 year old Ahmed Merabet, a Muslim.
Amedy Coulibaly dead along with 4 Paris grocery hostages. What motivated him?
Clarissa Jean-Philippe, French cop killed in second shooting. Are the attacks linked?
Mohammed Junaid Thorne justifies Charlie Hebdo killing: 'You started it'
Hamyd Mourad surrenders. Said Kouachi, Cherif Kouachi in Rheims manhunt.
Charlie Hebdo attack. Did the editors provoke Islamic Al Qaeda terrorists?'
Merabet the police officer seen begging for his life was a patrolman who had been assigned to the 11th arrondissement– the Paris neighborhood where Charlie Hebdo's office is located.
Islam explicitly condemns killing other Muslims. Many Islamist groups justify their indiscriminate attacks on fellow believers by claiming that those living in the West, or otherwise not advancing their group's radical cause, have betrayed 'true Islam' and are therefore apostates.
Tributes would  continue to flood in for the heroic police officer who was gunned down in the line of duty.
Wrote one commentator: 'RIP Ahmed Merabet, French policeman, murdered protecting people in Paris', while Alan Mendoza said: 'Important to note that amid the carnage today a brave Muslim policeman was murdered by those claiming to represent Islam.'
Reflected another commentator: 'When the witch hunts start remember this man, a Muslim who laid down his life to protect the people of France. Many Muslims are like Ahmed Merabet, good people who wish to live a life of peace. He was murdered not executed.'
Video of the killing has been played on repeat on television channels and news websites across the globe (we have posted it below, be warned it is very graphic).
The video shows the gunmen injuring the officer before one of them shoots the officer in the head with a single bullet. The gunmen then flee the scene after entering a black Citroen.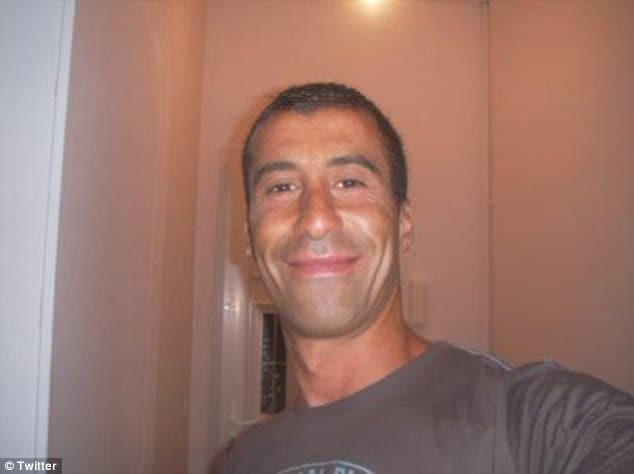 According to France's Prosecutor-General, eight of those killed were journalists working for Charlie Hebdo, including the journal's editor in chief, Stephane Charbonnier(Charb) and his security attache.
Also murdered were prominent cartoonists Jean'Cabu' Cabut, Bernard 'Tignous' Verlhac and Georges Wolinski, men who had regularly satirised Islam and the Prophet Mohammed – along with and French economist Bernard Maris.
Meanwhile, police have identified the three prime suspects as 34-year-old Said Kouachi, 32-year-old Cherif Kouachi, and 18-year-old Hamyd Mourad.
All suspects are French nationals who were born in France. However, the two Kouachi brothers are of Algerian decent, reported BBC. One French official said the suspects are connected to a Yemeni terror network.
One of the three men is in custody after giving themselves up, while two remain at large.