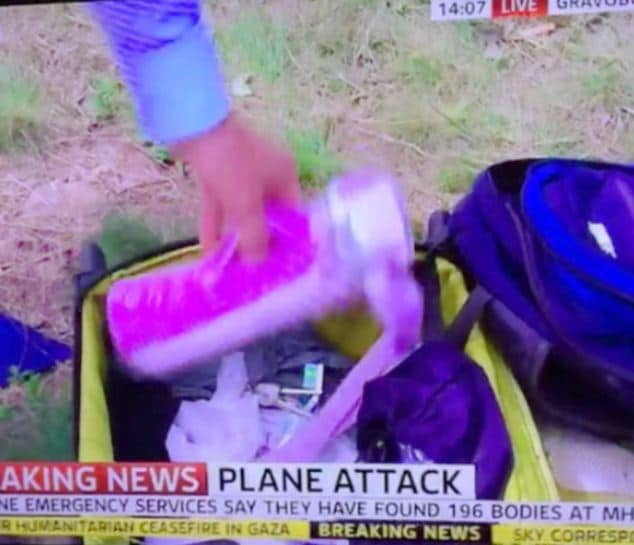 The family of a Malaysia Airlines MH17 crash victim have condemned, Sky news reporter Colin Brazier after a live episode saw the reporter rummaging throughout their luggage.
Malaysia Airlines MH17 Media bias. How Vladimir Putin became the bogeyman 
Malaysia Airlines MH17: Where are the black boxes and who has them? 
Did Malaysia Airlines MH17 last minute route over Ukraine airspace put it in peril? 
Ukraine air traffic controller suggests military shot Malaysian Airlines MH17 
Malaysian Airiines MH17 BUK missile launcher smuggled back to Russia. Missing 2 rockets 
BUK missile launcher was positioned 2 hours before Malaysia Airlines MH17 flight 
Did Russia's Igor Girkin shoot down Malaysia Airlines flight MH17? 
Malasysian Airlines MH17 plane carrying 295 shot down. Who's to blame? 
The uproar came after Colin Brazier took to picking items, including a set of keys and a toothbrush – out of the open luggage before saying: 'We really shouldn't be doing this, I suppose.'
Told MH17 victim, Richard Mayne's older brother Thomas, 24: 'I think it's totally out of order. It's not on.'
The Leeds University student would be one of ten UK residents to die in Thursday's Malaysian Airlines MH17 downing.
Added Thomas Mayne: 'It's sick and the worst example of news journalism which is sensationalising an appalling human tragedy.
'It's really hard for us at the moment. The magnitude of it all and the way it happened. You don't think this sort of stuff happens to you.
'We just want Richard to come home now, so we can say goodbye properly. We want to lay him in peace, see him one last time and give him a good send off.
'On behalf of our family, I totally denounce the practice of Sky reporters looking through the victims' possessions. 
'I really hope Richard's stuff isn't part of that but it's really not on. For all the families involved, they really should not be doing it. 
'My mum and dad have had so much to cope with over the past few days as it is. They're sick of it.'
The Sky report would lead to the lodging of copious complaints with television watchdog Ofcom, amid growing anger over the desecration of the crash site and allegations of looting by pro-Russian rebels.
Who also didn't come to find much love for Colin Brazier were social media users, with some calling for his axing.
Told one user: 'Why is Colin Brazier still on my telly?'
Said BBC radio presenter Shelagh Fogarty: 'Sky!! Get your reporter to STOP rummaging thru the belongings at #mH17 crash site. "We shouldn't really be doing this" NO S**T Sherlock !! Those items are essentially sacred things now for the relatives. Just appalling.'
Media professor Joe Watson called it a 'horrible moment for journalism'.
Reflected another: 'Colin Brazier has interfered with a crime scene in the most distasteful manner. It must be investigated fully.'
Since the July 20th incident, Sky News has refused to say whether disciplinary action would be taken against the veteran reporter, or whether there are any plans for him to return.
In a statement Sky added: 'Today whilst presenting from the site of the MH17 air crash, Colin Brazier reflected on the human tragedy of the event and showed audiences the content of one of the victims' bags. Colin immediately recognised that this was inappropriate and said so on air. 
'Both Colin and Sky News apologise profusely for any offence caused.' Brazier later gave a moving account of coming across scores of human remains at the site.
He said: 'I've been walking around, coming across body parts all the time, many of them charred beyond recognition. Men, women and children, indeterminate frankly, you can't tell. Very often you are looking at charred spines, that's all that's left.
'It is a truly macabre, horrific situation. There is a degree of anarchy and lawlessness.'
And then there were these comments on the web that made me wonder:
A distinct lack of standards, that in years past would have precluded such behaviour. The problem is of course, in an attempt to be "nearer the action" and outdo the opposition this bloke has overstepped the mark and offended many, including bereaved relatives. It's tacky, tasteless and not very well though out. That statement applies to most in public life as easily as the media.
I for one don't think he did anything wrong , it was not done with malice and he felt bad but it a fact that REAL people have died and their belonging are scattered over a field ……don't make him a scape goat !!!!!
Typical journalist: zero respect for anyone else.