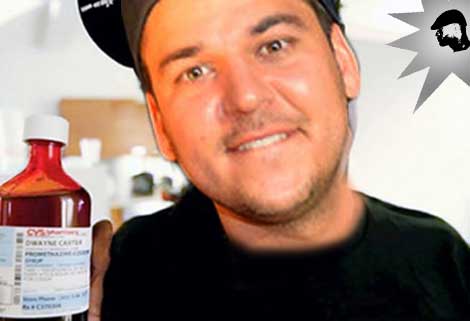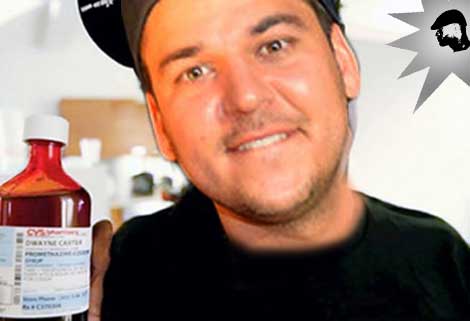 A close pal of Rob Kardashian has come out to tell our fallen hero is a drug addict after confessing that pal Rob has increasingly become dependent on a wide array of prescription drugs including Norco and Percocet, as well as the anti anxiety drug Xanax.
The Kardashian family is very mad at Rob Kardashian for being fat
Rob Kardashian: 'I know I'm fat but that's my problem, not yours.'
Sad Rob Kardashian flies to Kim Kardashian's wedding. Looking fat again. 
According to the friend in the weeks leading up to sister Kim's May 24 wedding, Rob was holed up inside his Sherman Oaks, California, condo 'doing heavy drugs.'
The source exclusively tells In Touch: 'He'd just lie around his place smoking weed, doing drugs, watching movies and eating. He said he 'needed' the pills."
Rob has also been indulging in "Lean," the friend alleges to In Touch. Also known as "Sizzurp," the highly addictive cocktail of prescription-strength cough syrup, Sprite and a Jolly Rancher candy are said to be able to cause seizures and even death.
According to the pal, whilst media speculation as to why Rob Kardashian high tailed out of sister Kim Kardashian's wedding nuptials rest on Rob feeling left out and ridiculed by his family for being 'too fat,' the real reason behind Rob's departure may have been related to his drug use.
'The reason he left Kim's wedding wasn't just that he was embarrassed to pose in photos,' the insider tells. 'He only knows how to party to excess. He is so depressed and needs help.'
Interestingly Rob's alleged drug taking comes after Rob recently reached out to his sister Khloe Kardashian's estranged husband Lamar Odom, who has been struggling with his own drug problems including crack cocaine. It is not known if the pair are still spending time with each other at present…
above image found here