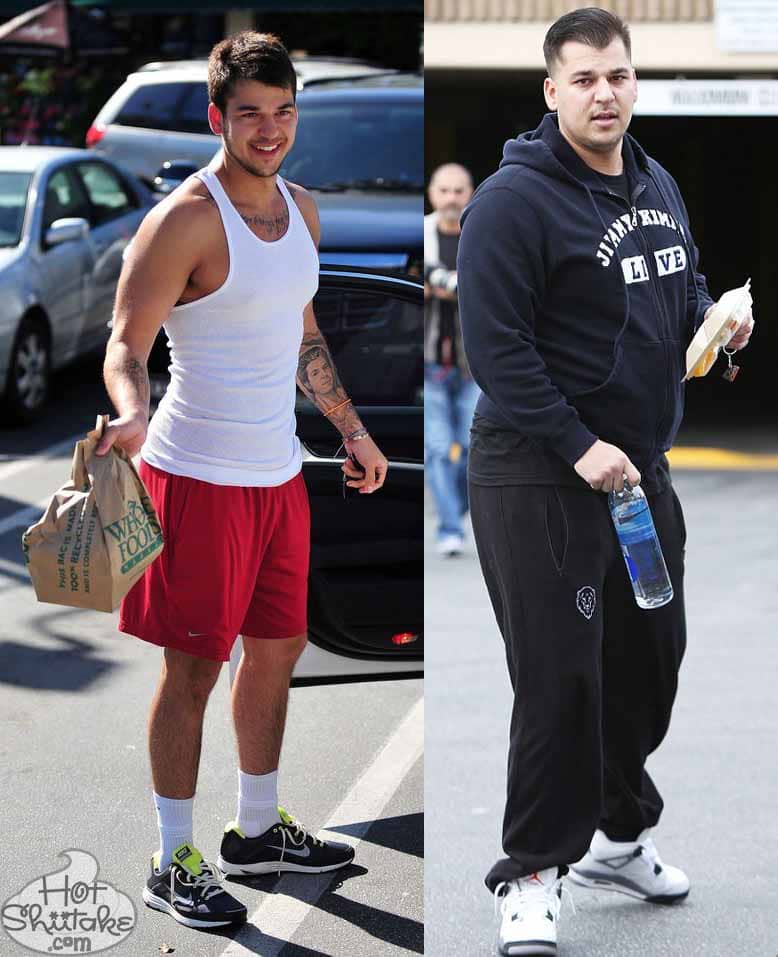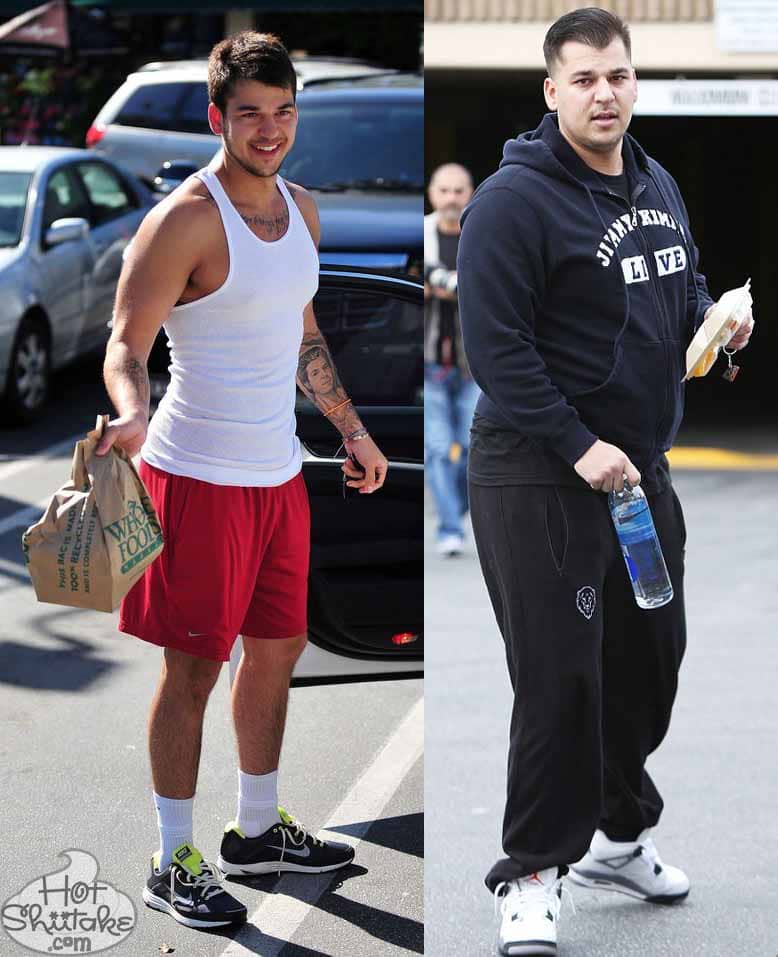 Rob Kardashian, Kim Kardashian's brother has hit out at detractors who have gone to increasing lengths to take note of his increasing girth.
The Kardashian family is very mad at Rob Kardashian for being fat. 
Sad Rob Kardashian flies to Kim Kardashian's wedding. Looking fat again. 
Told the reality star about him being fat on twitter: 'So i found out i was trending for being fat… thank you all it really made my day,' 
 'And to the blogs saying i went to fat camp or rehab LOL then why am i still fat u fools?? y'all must have run out of real news.'
'First, i don't believe in rehab or therapy or anything of that sort and second I'm a grown man and will work on myself when i choose.'
Rob added: 'I'm aware that I'm fat that def aint a surprise to me lol and my only therapy will be in the gym anyways.'
Coming to his defense was sister Khloe Kardashian who has been seen numerous times trying to motivate her brother Rob back to fitness on Keeping Up With The Kardashians.
Retorted the inflamed sister, who has also being vehemently attacked about her own weigh issues: 'What shallow souls some of you are,'
'Its sickening to critique anyone off of their appearance. Grow up! You should be ashamed of your self.
'Your words are cutting deeper then (sic) you know and are possible leaving lifetime scars! Some of you people are disgusting for calling others names and picking on them.'
Many of Rob's followers were quick to follow up with supportive tweets, with one writing, 'we love you rob,' and another tweeting, 'you're hot, okay? f*** the haters.'
Nevertheless some social media users took to continuing to bash Rob Kardashian, with one telling: 'fat and ugly eat my a**.'
With elder sister Kim Kardashian's wedding days away, Rob's trainer Gunnar Peterson told TMZ that he is flying to Paris to work out Rob AND Khloe throughout the weekend
It is thought in the months and weeks preceding the wedding, family matriarch Kris Jenner has been on her brood's tails to get them fit and in shape as they once again take to the public realm in lieu of elder sister Kim Kardashian's wedding. That said, it hasn't gone without saying that Rob Kardashian has been missing in action and has only recently resurfaced admittedly appearing worse for wear. A condition which elder sister Kim can attest is hardly the preferred status quo of telegenic reality heroes.