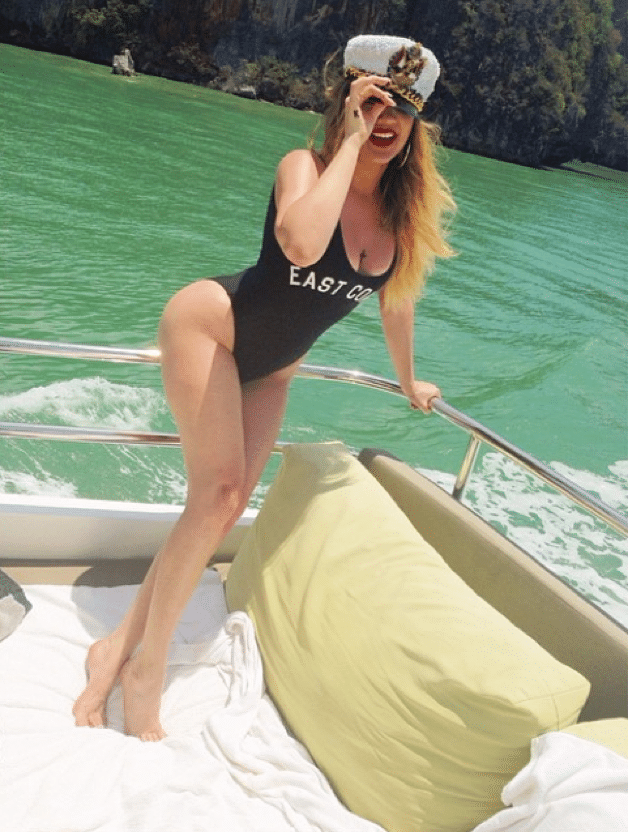 Khloe Kardashian has sought to share with the world her latest weight loss look as she luxuriates on the shores off Thailand.
The new pictures via instagram comes as the omnipresent media whore and her family take off on a luxury get away in exotic lands. Which of course raises the awkward question, what does Khloe Kardashian and her elk do all day anyway besides preen for camera crews?
Tells one media outlet:  Over the past few weeks, the former basketball wife has been posting images on Instagram of herself hitting the gym. The star, who has always been open about her struggle to shed pounds, shared with E! News a few weeks ago what her weight loss secrets are.
"I don't believe in diets," she said. "I believe in working out and hard work and consistency."
Never mind, as one can see Khloe Kardashian is a happy giddy mess as she poses for the publicity machine otherwise known as tabloid land.
Don't you wish you had a permanent gig as a cover model for the faint of heart too?
Oh really? How did Khloe Kardashian lose 30 pounds just like that?
My gosh! Khloe Kardashian loses 20lbs in 20 days. How did she do it?
Khloe Kardashian will make all you jealous bixches shut your mouths or else.
Khloe Kardashian would like to show you her double chin now that she put away her make up kit.
The Khloe Kardashian feeding frenzy nearly causes Ok magazine to throw up.
Will DNA tests prove that Khloe is a real Kardashian after all?