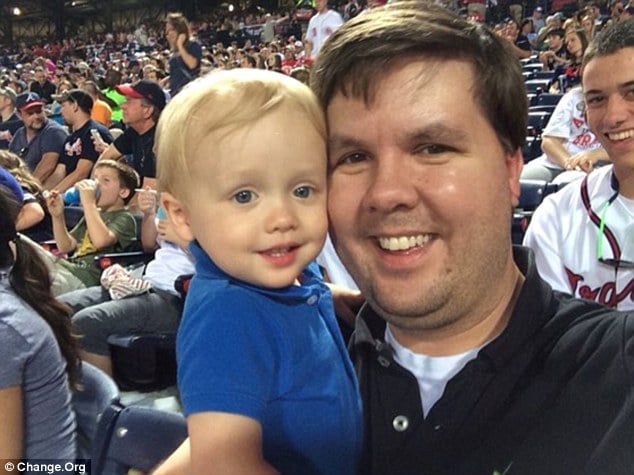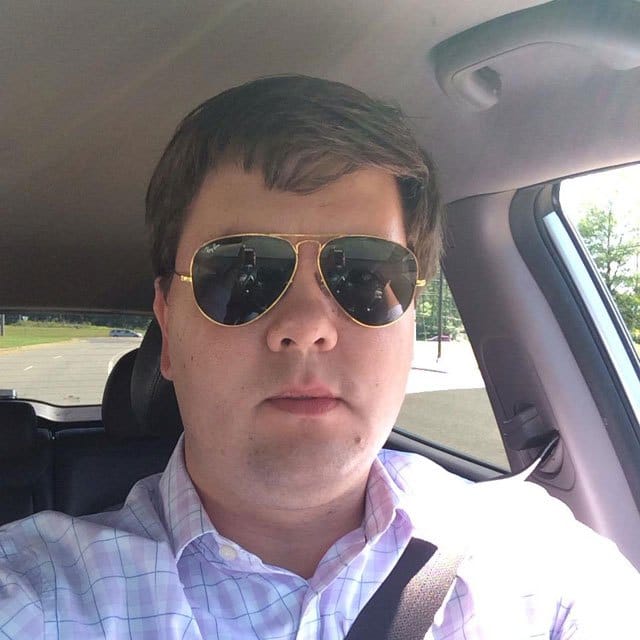 In the days since Justin Ross Harris, 33 left his 22 month old toddler son Cooper alone for hours in a hot car, the Atlanta father has since found himself being questioned by cops who now suspect that the tragedy may have not been an accident in the first place.
Justin Ross Harris wife, Leanna tells funeral: He is a wonderful daddy. 
Justin Ross Harris admits researching child deaths inside vehicles 
Justin Ross Harris son, Cooper died because of hypothermia. 
Justin Ross Harris researched animals in hot cars before son's death 
Justin Ross Harris arrest warrant: He went to his SUV during lunch 
According to facts and testimony gathered by cops, Justin Ross Harris was supposed to drop his toddler son to daycare around 9 a.m. Wednesday past, but instead went straight to work, apparently forgetting the boy was strapped in his car seat in the back of the vehicle for seven hours.
Since the incident, cops have come to charge Harris with murder and cruelty to children in the first degree, but inconsistencies in the father's story have led police to openly question if what the Home Depot employee is saying is true.
'Much has changed about the circumstances leading up to the death of this 22-month-old since it was first reported,' Cobb County Police Sgt. Dana Pierce told CNN.
Adding: 'I've been in law enforcement for 34 years. What I know about this case shocks my conscience as a police officer, a father and a grandfather.'
Having initially told police he forgot to drop his child off at daycare and then traveled onto work, Harris phoned 911 at around 4.20pm in hysterics screaming, 'What I have done?'
Reiterated Cobb County Police Sgt. Dana Pierce: 'Within moments of the first responders getting to the scene and doing their job and questions began to be asked about the moments that led up to their arrival at the scene, some of those answers were not making sense to the first responders.'
On Thursday, Harris pleaded not guilty to felony murder and cruelty to children charges. He has since been held without bond at the Cobb County Jail.
And troubling, Pierce told CNN the following on Friday: 'I cannot confirm that the child, as originally reported, was in the car at 9am.'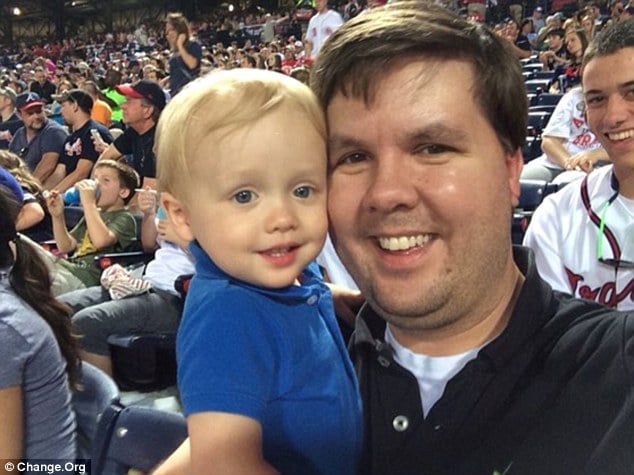 It wasn't until 4 p.m., when he was driving home, that Harris claims he noticed his son was lifeless in the back seat.
The father told how purportedly pulled over on Cobb Parkway and tried to perform CPR on the boy but it was too late.
A witness, Dale Hamilton, said told CBS46 he saw the distraught father pull the child out of the car and attempt to resuscitate him.
'He was constantly saying, "What have I done, what have I done?"' Hamilton said.
Police added that he had to be restrained at the scene because he was so upset.
On the day of Cooper's death, the high temperature in Atlanta was 91 degrees.
A police warrant states Harris, who goes by Ross and works at Home Depot, admitted he left the 22-month-old unattended and strapped into his child car seat in the parked vehicle for approximately seven hours during the day before finding him unresponsive.
'It's just a terrible, God-awful situation,' Cobb County District Attorney Vic Reynolds told the Atlanta Journal-Constitution.
'I can't imagine, I can't fathom what any parent would be going through at this stage. It's the type of case that affects the community.'
Reports tell that Justin Ross Harris had just passed the two-year mark of employment with Home Depot in their corporate office after having graduated from the University of Alabama in 2012 with a degree in Management Information Systems.
Offered Joe Saini, Harris' landlord who would describe the father's wife, Leanna Taylor Harris as 'very, very nice' people who loved her son dearly: 'Everything was going right for this couple,'
'They wanted to buy a house so they could have some space for their child to run around the backyard.'
An autopsy is now set to be conducted by the Cobb County Medical Examiner's Office to determine the cause of death for the child.
And then there were these comments on the web that made me wonder:
So, the daycare was at his work, but he drove 2 miles before noticing his child in the backseat upon leaving. So not only did he forget to drop the child off….he also forgot to pick him up?
Odd…..
According to news reports, something made first responders suspicious of the account given by the father. Also at least one LE official has said the case is shocking. They searched his office/desk at Home Depot. They even said something about possible involvement by the mother. It is very, very puzzling.
Something had first responders suspicious and LE searched his office at Home Depot. A child left in a car would probably die within the first hour. If he had been there for seven hours, there would be some obvious signs of death. I am not sure why they feel that the original report is now questionable. But something has them concerned about the sequence of events. I reall y hope there is no foul play. It is sad enough as it is.