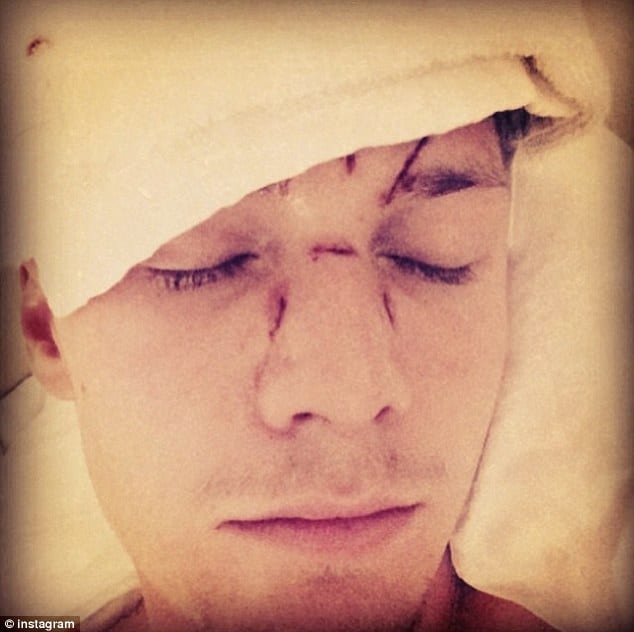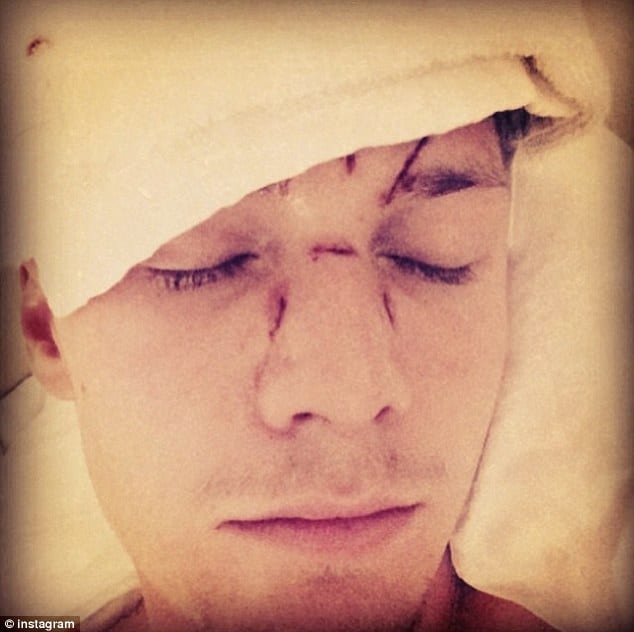 Lindsay Lohan party coke bags found. Escapes Barron Hilton saga.
Oh really? Barron Hilton refusing to cooperate with cops.
Who is Ray Lemoine anyway? Writer who managed to afford mansion and date Lindsay Lohan…
Oh really? Lindsay Lohan flees hotel after asked about Barron Hilton beating.
Ray Lemoine, Barron Hilton's attacker is trying to escape to Cuba.
Barron Hilton, the eponymous brother of fame slut Paris Hilton, has gone on to post a picture of his battered face on instagram after a run in that left him deliciously battered. Battered that is courtesy of Lindsay Lohan tells the younger brother of Paris.
To date, Barron Hilton (kids tell me that's not a real name?) claims that the beating was orchestrated by Lindsay Lohan after a run in at a local club during Miami's Art Basel annual hoi poi be seen and see clusterfxck.
Revelers at the party go on to tell that the good shit was on overflow and inhaling God was a matter of sticking a white $50 bill carefully up one's nostrils.
According to TMZ, the 24-year-old brother of Paris Hilton was taken from the Fontainebleau Hotel Friday night after his condition became serious enough to require emergency treatment.
At the time our new collective hero (what better way to rise to the fame whore stakes than being beaten in a coke snare party round up with coke whore du jour Lindsay Lohan) reportedly turned down the ambulance that rushed to the hotel where Barron Battered Hilton had been staying. Instead the future hotel squire chose to make his own private way to emergency treatment.
Sources tell that Battered Hilton had attended a party the previous evening at the same mansion that Lindsay Lohan had coincidentally been staying at.
Whilst use of the good shit was said to be rampant, Lilo went on to insist that she was no where near the white waterfall and that her new resurrected self had taken to 'kicking out 'those who dared risk not sharing the good shit ruining her image.
Perhaps in an effort to detract negative attention the beat down had may have on her highness, Lilo conspicuously went on to post references last night of how much life saner life suddenly was with honest, fun friends and no more bad folk. Which of course is like the kettle calling the pot jet black and then some.
Interestingly after the sizzle of God had exited her head, Lilo went on to delete the post some 30 minutes later.
Since the beat down, it has been claimed that Barron Hilton was allegedly overheard talking about her majesty behind her back, prompting Lilo and her friends to retaliate.
To date, our collective heroine has denied any involvement with the said beat down.
In a video, that TMZ have since gone on to capture, the two can be seen arguing the following day after Friday night's beat down.
nevertheless, tmz have gone on to obtain video of Barron Hilton confronting Lilo after the beat down.
Goes on to tell a harried Lilo: 'I saw nothing,' 
 'I'm harassing you?…Look at him! F**king c***'
Kids, do you get the feeling you are watching a dizzy re run episode of Days of our Lives, circa 1998 but only with color opted new adds in and a lower echelon of caricature actors for good measure?
Since the attack, Battered Hilton is said to have told cops that Lilo was heard shouting 'you talk s*** about me to my boyfriend, this is what you get.'
At the time of the attack, our new collective media hero insists that Lilo was seen encouraging the beatdown perpetrators and laughing.
Kids, tell me this wasn't all rehearsed two weeks before in a sweaty nightclub somewhere in the din of New York after-hours in anticipation of the Miami Art Basel meltdown media wrap up?
Entering the fray (cause bixch has got to earn his keep) was papa Michael  Lohan who went on to tell that his used ray of kryptonite had nothing to do with the attack.
Not to be left out was jingle bells herself, Paris Hilton who went on to tell:  "They both will pay for what they did. No one f***s with my family and gets away with it!!"
At present it is not understood whether Battered Hilton has sought to have charges levied at Lilo in lieu of the heightened media attention his ass was able to attain pro bono this weekend…
Update via tmz: Law enforcement sources tell us … the puncher has been identified based on witness testimony as New York resident Ray Lemoine — and now they want his side of the story.