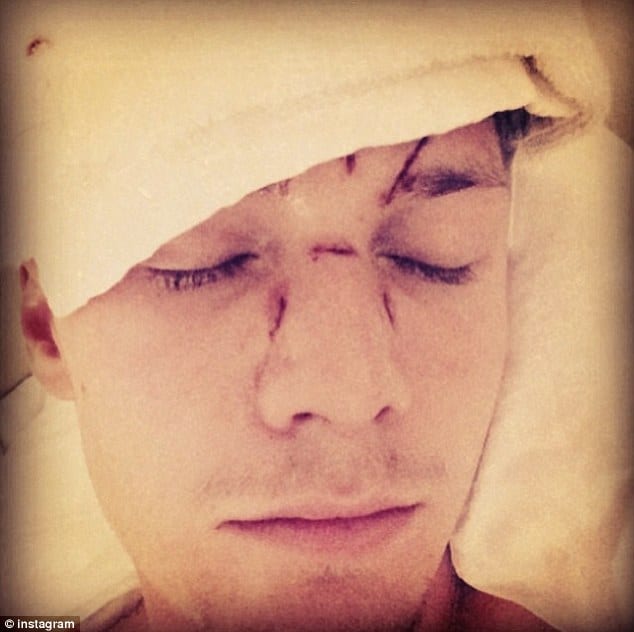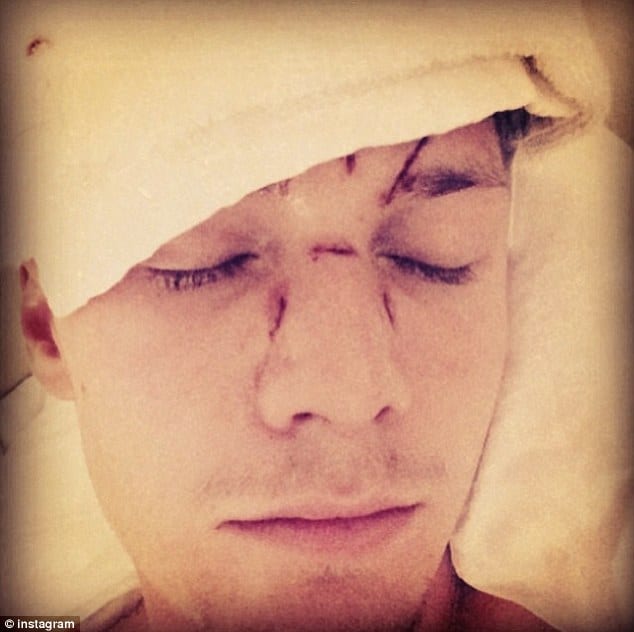 Lindsay Lohan party coke bags found. Escapes Barron Hilton saga.
Who is Ray Lemoine anyway? Writer who managed to afford mansion and date Lindsay Lohan…
Ray Lemoine, Barron Hilton's attacker is trying to escape to Cuba.
Oh really? Lindsay Lohan flees hotel after asked about Barron Hilton beating.
Here's a picture of Barron Hilton's face after Lindsay Lohan mastermind beat up.
In the ever changing drama called 'my ego hurts here's a picture of it bruised on instagram,' hero du jour, Barron Hilton is said to now be refusing to cooperate with cops as his ass has failed to allow cops to document his injuries, purportedly at the hands of downtown fixture, Ray Lemoine and Lindsay Lohan.
Told  Sgt. Bobby Hernandez of Miami Beach Police: "We've had no cooperation from Mr. Hilton since he made the report,"
Having since returned to Los Angeles to lick his wounds and tend to plastic surgery (yes God will intervene), Battered Hilton has only given a statement to cops but refused to wait for crime scene investigators to take pictures of his injuries, thereby insuring cops' investigation remains in standby mode. Which is another way of saying Battered Hilton is fine with getting the media buzz out there and probably not much more.
Went on to tell Sgt Bobby Hernandez: "He didn't want anything to do with it. Since then, we haven't been able to get in touch with him. He hasn't called back to respond to numerous messages,"
Hmm, can anyone guess why kids? Maybe Battered who went on to party for a few more hours after being whacked had more to do with Saturday morning's early fracas than he is letting on?
Went on to reiterate Sgt Hernandez: "We are in standby mode until we get more information and speak to the victim himself," he said. "If the victim doesn't want to cooperate, it ends at that point."
Kids, raise your hands if you're not anxious to see this climatic episode of spoilt brats culminating in a stint in the slammer arena? I know I am…
Cops have since gone on to scoff that they are close to arresting hawt bixch du jour, Ray Lemoine who has been mouthing off that he's ass is now in transit mode to Cuba of all places.
Told our hero, Sgt Hernandez: "We have no subject in custody, nobody we're pursuing right now,"
And what of our collective heroine, White Lilo?
"She wasn't implicated on the scene by any witnesses. She wasn't implicated to the officers who took the report. Nobody said that to an officer," 
At present it is understood that our new collective media icon, Ray Lemoine has been taking the sights at Florida Keys waiting for all that nasty shit to die down.
Don't you wish you had the media working pro boon 24/7 to elevate your imminent celebrity standing?