Employers at one diner in Otisville, Michigan have taken to keeping the restaurant open in the hopes that they will be able to make back wages that the diner's owner failed to pay them after skipping town.
The workers in an effort to reclaim lost wages have now sought to attain permission to remain open throughout the week. The effort comes after employees were told earlier this week that the restaurant is closing and that the owner had no money to pay owed wages.
Read a sign outside of 'Otisville's Down Home Diner': 'Owner skipped town. Staff working for wages due. We are open.'
Went on to tell Janie Lehr, the restaurant's general manager: 'Check by check, week by week, people depend on their tips.'
'He said, 'I don't have the money.' I said, 'What, what are we going to do?'
Added employee Tonya Fran: 'Everyone here is owed a month's pay, and he locked the doors the morning of payroll.'
Janie Lehr went on to tell that she talked the diner owner into letting them work through the end of the week, cooking whatever food was left in the hopes they'd earn enough to keep the lights on when they went home.
Reiterated Lehr: 'This is the only way we're going to get paid. I have people who work here who have children, they have rent, there's no way.'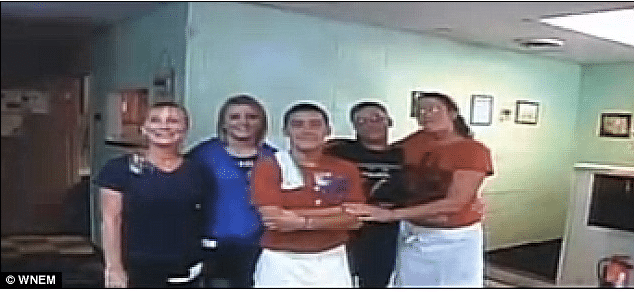 Thankfully locals have taken notice and began pouring in and opening their wallets. If only they had taken notice when the diner was up and about before one wonders.
One customer who declined to be identified told how they left a $100 bill for a $16 check.
Told another incredulous local Ed MacLachlan: 'When I walked into the door today, I couldn't believe it, I couldn't believe it.'
Vowing to give good service until the doors lock, the diner employees have bonded together to earn as much as possible before their window of opportunity closes.
Friday night's last hurrah was an all-you-can-eat fish fry, normally their highest-grossing night of any week.
The diner's owner has since declined to respond to continued efforts by local media to exact a comment. Can anyone guess why?