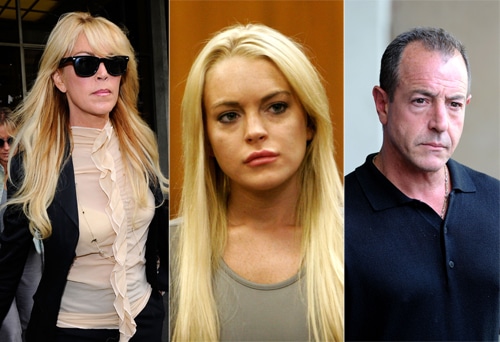 The never ending drama called this 'is just another dizzy merry go round the crazy make believe machine starring scary old me Lindsay Lohan' has now taking a new twist this morning with the revelation that she has new woes to deal with.
radar: What happened to Lindsay Lohan's money?
That's what her father Michael Lohan would like to know, he tells RadarOnline.com in an exclusive interview, after the Internal Revenue Service swooped in and froze the star's accounts fornon-payment of federal taxes.
Facing myriad criminal legal problems, Lindsay must now deal with the IRS, which obtained tax liens against her for $233,000 of unpaid taxes from 2009 and 2010.
Kids tell me you aren't heaving at the seams for dear Lilo? This is our collective hero going fast down the gurgler. It's one thing to get panned for a macabre soap box performance, another thing to cause another nightclub punch and brawl episode that gets you in media tabloid delicious land but to now also be deprived of your gently shaken Vodka money and cab money? Kids I am frothing for the sake of our collective hero.
Who of course is also not taking the good news of Lilo's new woes is Pappa Michael Milk my daughter for all I can Lohan, cause you know at least he's been making some serious coin off the family drama…
"I would like to know where the $150,000 is she made on the Pink Energy Drink," Michael told Radar.
"Ask Dina," he added, continuing to lament his ex-wife's lack of help in getting Lindsay appropriate treatment as she reels from one crisis to another.
That's right ask Dina. Cause Momma Doyen of good miserable cheer will soon be releasing a press release where she will be stating the following : 'Ask my scumbag ex MILO where Lindsay's drinking money went!!'
With Lindsay Lohan's looming legal woes coming close to home and with expected court appearances, the IRS cash grab can only be increasingly bad news as our collective hero is forced to live another dizzy episode in her own made for tabloid drama "this is just me sinking into oblivion, smile if you dare…'
If only your family drama was just as touch and go, unless of course it is….
Above picture found here