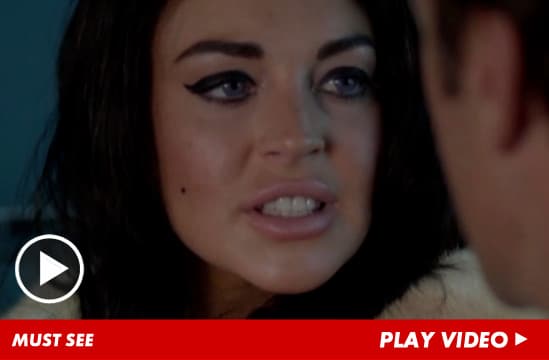 Oh really? Lindsay Lohan's performance on 'Liz and Dick' pummeled.
Lindsay Lohan predictably disappoints in a confounding performance as Elizabeth Taylor in Lifetime's much ballyhooed 'Liz and Dick.'
In fact so bad was our collective hero's performance in a role meant to revive her almost non existent career that critics, actors and celebrities alike have gone on to condemn our starlet.
Model Christine Teigen tweeted that Lindsay was better in her breakout role in The Parent Trap – filmed when she just 11.
She then added: 'Poor John. I know I had to watch 30 hours of football but he doesn't deserve this. No one deserves this,;
While writer Liz Meriwether, who is the creator of hit sitcom New Girl, mocked the scene where Lindsay as Elizabeth faints upon hearing the news of Richard Burton's death, tweeting: 'Oh my God. I think that was the funniest thing I've seen in TV for a while and I write comedy for television.'
Elan Galen, producer of ABC's The Bachelor, The Bachelorette, and Bachelor Pad, added: 'Lindsay Lohan breaks new ground and shows her versatility in Liz and Dick by playing a chain-smoking emotional wreck pill-popping alcoholic.'
Writer Ben Widdicombe tweeted: 'Can we have Hilary Duff as Grace Kelly next please? Maybe Snooki as Audrey Hepburn?'
But of course the best criticism came courtesy of Lohan's enemies fans who were to be polite not one iota smitten by her performance.
Twitted our collective hero earlier in the evening:
"Hey guys! #LizandDick is on @lifetimetv!" she wrote earnestly. "Got any questions for me? Please send them my way."
Which of course brought an outpouring of grief and recrimination (see below), which might make an ordinary individual wince with self hatred but in Lilo's case only served to remind her how much of an 'admired' spectacle she has really become in popular trash culture. Something that even the real Liz Taylor were she still alive might gush over.
Here are some of the best Twitter responses to "Liz & Dick": zMinaRoss: "Lifetime should go ahead and just change there motto to, 'Your Life. Your Time. We're Sorry.'"
@lizzwinstead: "Gilbert Godfried sounds more like Liz Taylor."
@pattonoswalt: "Dear @lindsaylohan: I give you permission to Tweet me to smithereens when I do Lifetime's CHAZ BONO: THE CRUELEST CUT in March."
@KatCorbett: It's like watching the kid from The Parent Trap in a school play being stalked by a gladiator with a drinking problem. #lizanddick
@DItzkoff: "In their defense, everyone else in #LizandDick thought they were making 'Innocence of Muslims.'"
@emilynussbaum:"Somewhere there is a pie chart of who's at fault for the badness of this movie. Lohan's only 10%."
@jakefogelnest: "After tonight, Nielsen is going to start reporting ratings in the 18-34 ironic demo."
@ShmittenKitten: "Lifetime should make a movie about Tom Cruise and Katie Holmes staring Amanda Bynes and a pile of garbage."
@LouisPeitzman: "Truth: I'm actually not sure I'm going to watch Liz & Dick tonight because I realized it could be a trigger and bad for my sobriety."
@poniewozik: "All of you livetweeting LIZ & DICK and swelling its ratings will have yourselves to thank for "The Situation is… JAMES DEAN"
@sophjasin: "I don't think I was supposed to laugh at the end of #lizanddick