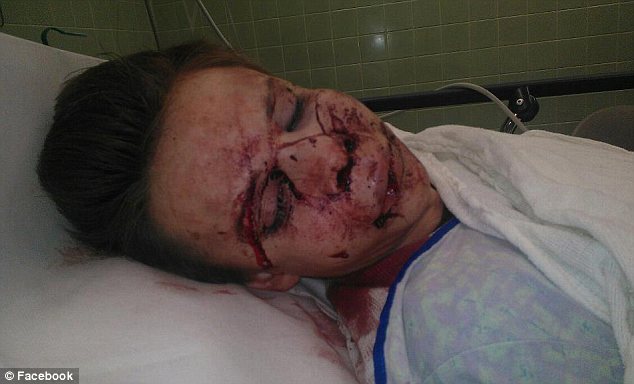 Mallory Owens' attacker Travis Hawkins Jr now faces potential attempted murder charges.
Mallory Owens reckons her beating was not a hate crime.
Lesbian brutally beaten by girlfriend's brother at Thanksgiving dinner cause he disapproved of relationship.
In what appears to be a strange about face, first with Mallory Owens and her girlfriend, Ally Hawkins' assertions that the beating that Mallory Owens suffered was not the result of a hate crime, now comes the assertion via Travis Hawkins' Sr, Ally Hawkins' father, that the Hawkins family had been 'warmly' welcomed Mallory Owens to their home the night of the beating.
In fact, an attorney for the Travis Hawkins Sr, Peter Burns who was present at a press conference which took place this afternoon with his client goes on to say that Mallory Owens is now recuperating from her wounds at the Hawkins home. This despite the savage beating she incurred at the hands of Travis Hawkins Jr which left her with a fractured skull, lacerations and a broken nose.
Burns went on to say that despite the confrontation that took place, the family has no issue with Mallory Owens' relationship with their daughter, Ally Hawkins, on the basis of sexuality. It is understood the pair have been dating close to a year now.
Reiterated Burns: "To have invited her [Owens] to spend Thanksgiving with the family says something. Then for her to want to come back to the Travis [Hawkins] residence after – as soon as she gets out of the hospital – and for Bridgette and Travis Senior to welcome her back, well you know, that says something too."
Which raises the question, what exactly does it say after all? Take a beating and then just call it a day as we nurse you back to health? A beating here or there never hurt anyone, especially since we'll nurse you back to strength?
Burns nevertheless did acknowledge that the Hawkins family had in the past disapproved of Mallory Owens' conduct, but not her sexuality. Which of course raises the question is the Hawkins' attempt to mitigate punishment at the hands of the law and why for that matter is Mallory Owens ceding to such a description of events? Surely no misconduct could deserve an individual having their face ferociously pummeled and left now needing plastic surgery?
And what of Travis Hawkins Jr himself?
Reflected Travis Hawkins Sr:
"He's really broken up, he's realized – I think at this point – the gravity of what he's done." 
At present it is also understood that Travis Hawkins Jr spoke with Mallory Owens's sister, Avery Godwin the day after the attack to say that he 'would finish what he started.'
via al