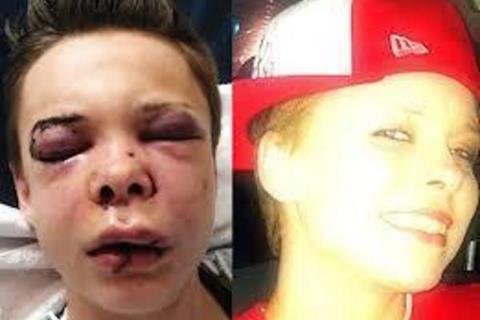 Mallory Owens' attacker's father denies hate crime. Welcomed her with open arms.
Mallory Owens reckons her beating was not a hate crime.
Lesbian brutally beaten by girlfriend's brother at Thanksgiving dinner cause he disapproved of relationship.
Despite signs of contrition on behalf of the Hawkins family, whom yesterday held a press conference to address their son, Travis Hawkins Jr recent beating of Mallory Owens, Mobile County District Attorney Ashley Rich may still move to have charges against him upgraded to attempted murder.
The disclosure comes after Travis Hawkins Sr and the family lawyer Peter Burns held a press conference in which they vehemently denied that the beating that their daughter, Ally Hawkins' girlfriend, Mallory Owens was subjected to was the result of grudge against her for being a lesbian. Instead Peter Burns offered the beating came as a result of 'conduct' issues.
Reiterated Burns: "To have invited her [Owens] to spend Thanksgiving with the family says something. Then for her to want to come back to the Travis [Hawkins] residence after – as soon as she gets out of the hospital – and for Bridgette and Travis Senior to welcome her back, well you know, that says something too."
Some commentators have suggested the latest conciliation towards Owens isn't really a regard for the girl who received a savage beating but rather a concerted effort on behalf of the family to negate the possibility of their son, Travis Hawkins Jr having current battery assault charges upgraded to that of attempted murder.
Adding to the tension is the possibility of hate crime charges being pursued, courtesy of the federal government as a widely signed petition (90 000 signatures as of this morning) have called it to step in as a result of Alabama not having a provision in their state charter that classifies abuse against same sex couples as a hate crime. Something that  Mobile County District Attorney Ashley Rich has admitted may complicate his office's attempt to pursue hate crime charges against Travis Hawkins Jr.
Added  Travis Hawkins Sr:
"He (Travis Jr.) had spent a lot of time with Ally and her friends. She has a nice community of lesbian friends that he enjoyed spending time with. He has several of them on his Facebook, speaks to them frequently, hangs out with them, that kind of thing. Their relationship was not a problem."
Also in other developments, Mallory Owens and her girlfriend, Ally Hawkins, have also come out with their own statements in which they argue the beating that Mallory Owens received was not the result of a hate crime, but at present have yet to explain what may instead have motivated the beating.
The beating left Mallory Owens with facial and neck lacerations, a broken nose, black eyes and a fractured skull. In the interim, Mallory Owens has mysteriously chosen to move in to her aggressor's family home as she begins the journey of healing and now seeking plastic surgery pursuant to the placement of metal plates in her face….
Complicating the Hawkins' family efforts to quell the state's possible efforts to now possibly seek attempted murder charges is a statement that Mallory Owens's sister, Avery Godwin made to authorities in which she communicated the day after the attack Travis Hawkins Jr called her to communicate that he 'would finish what he started.'
At present it is expected more details will be released when Travis Hawkins Jr goes to court on December 10th for his arraignment.