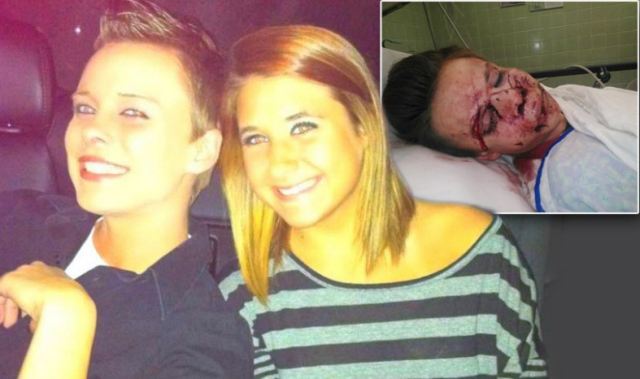 Mallory Owens' attacker Travis Hawkins Jr now faces potential attempted murder charges.
Mallory Owens' attacker's father denies hate crime. Welcomed her with open arms.
Mallory Owens reckons her beating was not a hate crime.
It is being reported that a 23 year old woman, Mallory Owens was brutally beaten by her girlfriend's brother because he didn't approve of his sister's relationship.
The beating came after Alex Hawkins brought her lover, Mallory Owens to a family Thanksgiving dinner which led to her 18 year old brother Travis Hawkins Jr taking intense displeasure at the fact that she was involved in a lesbian relationship. It is said after the dinner, Travis Hawkins knocked Mallory Owens to the floor before proceeding to savagely pummel her face with his fists.
Said Kristi Taylor, Mallory Owen's mother: "He tried to kill her. He's lucky he didn't kill her. She's lucky to be alive. I didn't recognize her when I got here. It's hard to look at her like that."
Pursuant to the beating the young woman was hospitalized and treated for a broken nose and numerous lacerations as well multiple skull fractures. Her eyes were swollen shut after the brutal beating and she had to receive facial reconstruction surgery.
According to Kristi Taylor there had been ongoing friction between her daughter and that of the Hawkins family who dissented over their daughter's relationship with Mallory Owens.
Media outlet WKRG-TV reports that earlier this year, Hawkins allegedly hit Miss Owens over the head with a pipe wrench. While injured during that attack, no charges at the time were filed.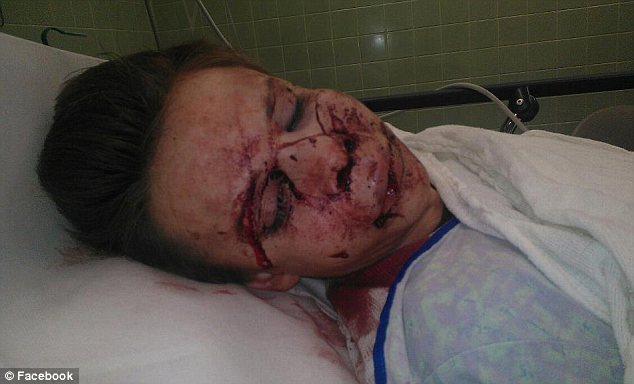 Upon hearing that her daughter would be joining the Hawkins family for thanksgiving dinner, Kristi Taylor urged her daughter otherwise: 'I did not want her to go, I begged her not to go, knowing how the family felt about her. But she said, "They're trying to be nice."'
Since the brutal beating a Facebook group entitled 'Charge Travis Hawkins Jr with the attempted murder of Mallory Owens' has sprung up on Facebook, garnering nearly 600 likes in less than a day.
But it gets worse, according to Miss Owens' sister Avery Godwin, she told AL.com that Travis Hawkins later called her on Friday to say 'that he would finish what he started last night with Mallory.'
WKRG goes on to report that discord within the Hawkins family has been an ongoing state of affairs with the revelation that Travis Hawkins was hospitalized in January of 2011 after allegedly being shot in the chest by his father, Travis Hawkins Sr.
The outlet goes on to report that Travis Hawkins Sr was later released on bail and the case was never brought to trial after his son refused to testify against him.
Since the attack, Travis Hawkins Jr has been arrested by authorities and charged with second degree assault and consequently later released the same day after making bond. Although some reckon he ought to be charged with attempted murder as well as perpetrating a hate crime, something that Mallory Owen's family has at present declined to pursue.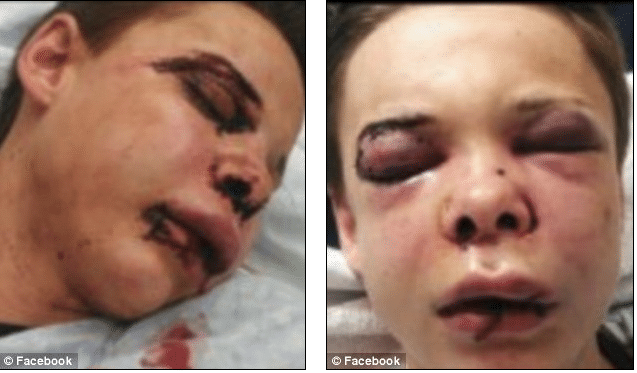 Complicating the pursuit of hate crime charges against Travis Hawkins Jr is the fact that Alabama state where the incident took place at present doesn't include sexual orientation in its hate crimes statute. One can only wonder why? Pressure is now mounting that Federal authorities now step up and apply pressure for hate crime charges to be applied.
Commented D.A. Ashley Rich: "We're on top of this, and we're making sure that the case is proceeding down the criminal path,"
"We are assessing her injuries, everything regarding her hospital stay. But at this time, he is charged with causing serious physical injuries to her, which is assault second degree under the laws of the State of Alabama."
Since the attack, AL is reporting that the Owens family has set up an account to send donations to help pay for their daughter's surgery and hospital time. Although she will be released yesterday, she will have to return to the University of South Alabama Medical Center on Thursday to consult a plastic surgeon for her injuries.
What's equally disturbing is why the story took concerted efforts from one Facebook user Sonia Mason to make it to the mainstream press, having only made headlines 4 days after the incident first took place.
Ultimately one has to wonder how such a crime was able to be perpetrated in the first place and why for that matter the state of Alabama does not have a clause for assault against another human being strictly because of their sexual orientation classified as a hate crime? Then again that may tell us something about the general attitude towards same sex couples in certain quarters of the country and the implicit state condoning of such behavior and attitudes which to some degree embolden intolerance towards same sex couples.
One also wonders about the general degree of dysfunction in the family and the malicious behavior of male role models in the Hawkins family, which may suggest a lot why Alex Hawkins chose to be a lesbian in the first place…
At present the following petition to support Mallory Owens and bring her attacker to justice has also been created: