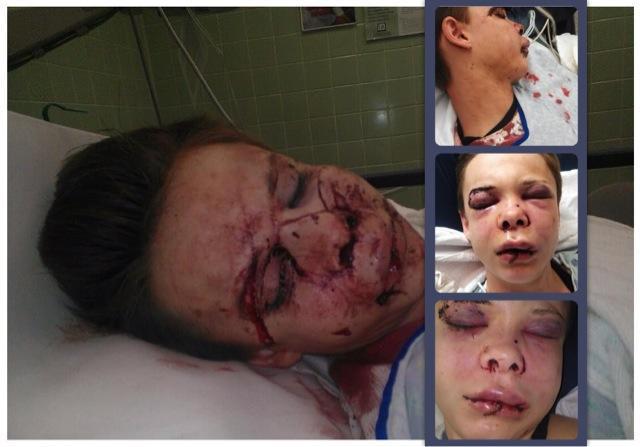 Mallory Owens' attacker Travis Hawkins Jr now faces potential attempted murder charges.
Mallory Owens' attacker's father denies hate crime. Welcomed her with open arms.
Lesbian brutally beaten by girlfriend's brother at Thanksgiving dinner cause he disapproved of relationship.
In a surprise revelation Mallory Owens has today revealed that her beating at the hands of her girlfriend, Alex Hawkins' brother, Travis Hawkins Jr was not a hate crime.
Tells Owens: "A lot of things have happened between us, but it doesn't make me hate her brother," said Owens. "I don't hate her family at all, or anybody for that matter."
She also then went on to say that a lot of things went on that night, that she can't remember much and that the assault she experienced was not because she was gay.
Interestingly Alex Hawkins has gone on to add that although she does not condone her brother's actions, he nevertheless had his reasons for attacking her girlfriend Mallory Owens. Those reasons Alex Hawkins opined would be released at a later date.
Said Alex Hawkins: "It's not a hate crime at all. We both know the reason why this happened, and it doesn't make any excuses for him, I'm not defending him at all. I know why he was angry, and that will come out."
Which raises the following question, what legitimate reason could possibly exist that would merit Mallory Owens being pummeled in the face to the point of experiencing skull fractures, lacerations and a broken nose? Are we to now believe that a legitimate reason exists for such behavior? Aren't Mallory Owens and Alex Hawkins in essence condoning abuse against their gender? If not a hate crime, at least it's a violent assault that ought to merit punishment, or is there more that meets the eye that has yet to be revealed?
More details are released when Travis Hawkins goes to court on December 10th for his arraignment.