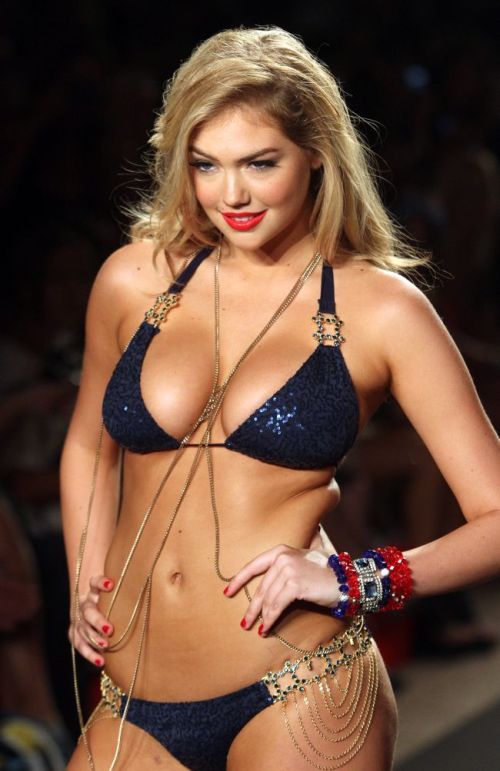 Thinspiration website skinnygossip (not to be confused with pro anorexic websites which glorify gaunt female forms) has come out this weekend bashing Kate Upton calling upon many of her faults as possessing huge thighs, no waist, big fat floppy boobs and terrible body definition. The dissing once again throws into question the debate over healthy body images for females.
Asks the journal: Is this what American women are "striving" for now? The lazy, lardy look? Have we really gotten so fat in this country that Kate is the best we can aim for? Sorry, but: eww!
The sudden surge in fame for Kate Upton makes me wonder how much further our plus-sized fixation is going to go. It's not that the Sports Illustrated Swimsuit Issue was ever high art, but thanks to Kate Upton securing this year's cover, it's now barely a notch above Playboy.
Perhaps what's most ironic about the above statement is that if one has a close look at what passes for desirable in terms of women's ideal body images it would be the opposite, the celebration of thin, slinky almost anorexic looking girls who triumph magazine covers, fashion catalogues and billboards the world over. The proof of course is the maniacal dieting that most women go through in order to replicate stated desired body forms.
Yet perhaps in a show of how arbitrary the ideal body form for women is, an articleearlier this week harbored on the fact in previous decades women were encouraged to gorge before proceeding to the beach, because a thin girl hadn't a chance of nabbing herself a man if she didn't have a rambuctuous figure to show off.
The journal goes on to dissect Ms Upton's figure in one recent appearance on the catwalk:
 She looks thick, vulgar, almost pornographic – and she is a solid 30 lbs too heavy for this outfit.
Which gets me to – what the HELL IS THIS??? Choices, people!!!
Of course what's interesting about the above comment is that most fashion insiders while playing yes games with the public who demand a more diverse reflection of healthy body forms actually only ever use gaunt, slender almost too thin girls when it comes time to sending them down the runway. Case in point:
Sophia Neophitou, one of their casting directors, said this of Kate:
"We would never use her… she's like a Page 3 girl… she's like a footballer's wife, with the too-blond hair and that kind of face that anyone with enough money can go out and buy."
Ultimately one has to wonder can a woman still be healthy if she has some curve to her and on the flip can she be healthy if she comes off pencil thin? With respect to idealized female forms it seems the question of what appeals to the public imagination is up for grabs but at least we can agree it's an arbitrary one and as much as most people may be repulsed with skinnygossip's point of view they're right to provoke a dialogue as to what counts as ideal and healthy…not that will stop most women from cursing, privately berating themselves for being too thin or too fat. Perhaps it's a man's world after all.
Video: Oh look! Courtney Stodden challenges Kate Upton in a bikini dance off…
Kate Upton's breasts star in new Terry Richardson video.
Video: Kate Upton's breast land on the cover of GQ's July issue.