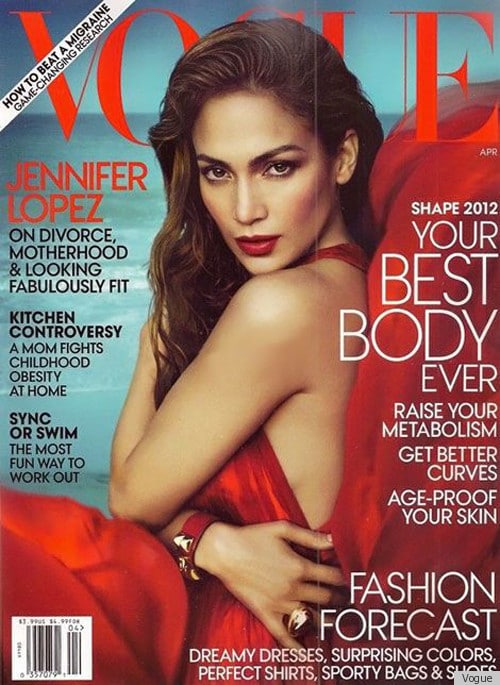 Jennifer Lopez's advice for the day: Being a media whore with bells and whistles will sooner or later get you the attention of Anna Wintour…
Just to give you a sense of my irritation of this latest breaking story (well according to Huffington Post which landed it in my email box) I thought I'd copy and paste word for word the first paragraph of this thrilling new coup d'etat that mere mortals like you and I can never hope to achieve. That's right grace pony covers that are meant to let everyone know that you matter and have arrived. That said, failing your ability to be part of this select coveted group of cover model vixens you but you can still idolize Jennifer instead like I do…. blah.
huffpo: It's official: Jennifer Lopez's comeback is complete. After dropping single after single, divorcing her husband (and snagging a much younger man), judging "American Idol" and debuting new perfume and clothing lines all in the span of one year, J. Lo has sealed the deal with a Vogue cover.
We get it, Jenny. You're fabulous
Yes Jenny is very fabulous, but really who's more fabulous are the media agents that follow the crooning singer as she makes a mockery of herself and relentlessly shows off that hawt bixch Casperwho she found at the back of a seven eleven before making him her side kick (ok so I'm exaggerrating but you bixches get the drift).
The moral of the lesson? If you can get yourself 24/7 media whore attention you too can make it on Anna Wintour's do to list this weekend.
Congrats Jenny, and only your second too…
JLo wants to introduce the hot bitch she's now hitting…
Marc Anthony lets J-Lo know he can haul in the young hot pretty things too. 
This bixch called love just refused to work out between J Lo and Marc Anthony as they now call it quits.
Jennifer Lopez named People's most beautiful, curious timing?
Nobody loves J-Lo anymore. Let the tears fly!