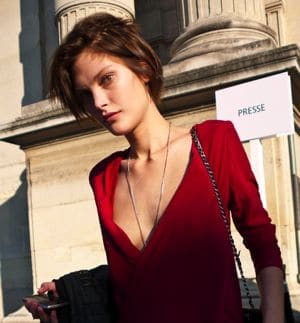 Every once in a while people come across by chance and I'd like to say I found Dan Stern, but on this one occasion he came across me and that's when I really took notice. Let's call Dan Stern the sartorialist with a twist, a very interesting twist. Having made taking impromptu street fashion photography of the highest and sometimes whimsical caliber we decided to take Dan aside who's currently shooting what pleases him at the Paris Spring Fashion shows (off the back of London Fashion week) and try to figure out how he actually sees his craft and how the art of street fashion photography is taking a big leap forward with Dan Stern of streetashionmonitor fully taking charge of what we believe to be the next to go to fashion pictorial website.
I have selected a few choice images pursuant to the Hermes show that Dan attended recently, but you should feel free to ogle the thousands of choice images he has of some of the most choice and aesthetically inclined individuals making the beat within fashion but not necessarily from the fashion world. Confused? Don't be, Dan explains how and why, enjoy…
SCV: What inspired you to start your blog and what are some of the things that you looked at before you started your blog? Also how did working for the Times influence you, if at all?
It was whilst traveling around the world that I became fascinated with the way different people dressed in different cities and I had a strong desire to capture these different looks by photographing them. But I didnt even own a camera so I had to use what was available …… my mobile phone camera.
I then took the big step after over 6 months of using a mobile phone to actually buy a point & shoot Lumix with a Leica lens. Once I mastered shooting subjects candid on the streets I knew I had to share these images with the world …..Hence the idea for the blog. Having spent a career in ad sales for the London Times didnt influence me as such but it assisted me in getting to the global locations and having the time between sales appointments to walk the streets & shoot.