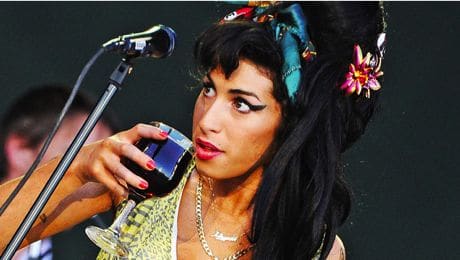 Tabloids are awash with the news this morning that our collective tragic hero, Amy Winehouse drank herself to death.
According to the Guardian, England's upscale version of tabloid regalia and all things pseudo intellectual (yes I am an avid reader bixches…) Amy died from alcohol poisoning after a drinking binge following a period of abstinence.
Alcohol poisoning? Is that something that happens when you drink tainted grog or just a cute way to say you drank your life away?
According to the coroner, Suzanne Greenway had consumed 1 5 times the legal drink drive limit, which translates to 416mg per deciliter of alcohol (which is another way of saying Amy was beyond loaded, in fact she was comatose) which if taken to extremes has the ability to depress one's respiratory system, as was found to be the case with Ms Winehouse.
Ultimately what belies Ms Winehouse's death is her overt dependance on alcohol. Which is to say Ms Winehouse despite her ability to sell music and make a handsome profit out of it as well attain a mythical status with her outlandish and often controversial persona was at the end of the day an alcoholic. A fact that was often documented by the press religiously and something that Ms Winehouse used to revel in. Something that very few alcoholics would be found actively publicising, but that was in essence the allure of Ms Winehouse, her ability to flaunt her achilles heel and to denounce anyone who would seek to question her addiction, something that paradoxically along with her ethereal voice won her many fans. Something that only adds to the irony of the Amy Winehouse legacy if we are to consider the abject commiseration afforded to her at the time of her death by the entire Western world who acutely felt her death and the tragedy of Ms Winehouse's insistence of being who she had to be, even if being who she had to be would eventually kill her.
The Guardian goes on to recall how Ms Winehouse would abstain from drinking for a while before relapsing from time to time, all the while taking Librium, a medication to help her deal with the anxiety of alcohol withdrawal- which only underscores the severity of Ms Winehouse's addiction.
Yet Ms Winehouse wasn't just addicted to alcohol, it has often been reported that she had a great preponderance to crack cocaine, cocaine and a variety of over the counter medications. Which in short belies the notion that Ms Winehouse was in a deep disarray as to what afflicted her, and what afflicted her could be argued to have been more of an emotional and psychological issue as opposed to a physical dependancy (something that often comes after continual use of any substance).
What is interesting to note is that Ms Winehouse was said to be vehemently opposed to any sort of psychological therapy, the very thing that she probably needed to help her get to the root of her addictions. After all addiction can often be said to be the desire to have more of something even with the full knowledge that that in itself will never be enough to hit the spot- to use a common euphemism. Yet if one wants to take the discussion further one can also argue that addiction is the desire to subrogate one's identity, circumstances, reality to another paradigm- something that Ms Winehouse did when she sang as well as challenged at the same time.
Perhaps then this is why her death and the exact nature of her death will deeply affect  those of us who also have to contend with our own afflictions, source of identity and the desire at times to not have to address the very things that make us unique and whole. Something that Ms Winehouse for a period was able to do in her own way, in a way that of course wildly touched so many of us and ultimately betrayed us.
God bless you Amy…
"GOODNIGHT MY ANGEL, SLEEP TIGHT." FAMILY AND FRIENDS SAY A FINAL FAREWELL TO AMY WINEHOUSE.
Troubled star Amy Winehouse observed to have bought a lethal mix of Special K, ecstasy and cocaine the night prior to her death.»
Amy Winehouse, at age 27 found dead at her North London home.
AMY WINEHOUSE IS BACK AT THE CRACK HOUSE— SORRY, WE MEAN HOSPITAL.
IT'S CONFIRMED- THE WORLD CAN SLEEP TIGHT NOW THAT AMY WINEHOUSE AND HER DAD LIKE HER NEW BOOBS.
AMY WINEHOUSE LIKES HER FANS SO MUCH THAT SHE GIVES THEM BLACK EYES…
IF ONLY AMY WINEHOUSE COULD SING CUTE POPSICLE SONGS….YOU'D LIKE HER MORE?