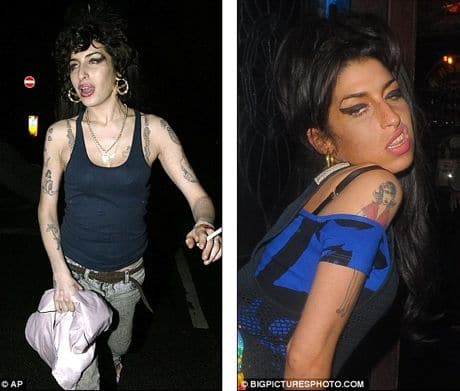 "Goodnight my angel, sleep tight." Family and friends say a final farewell to Amy Winehouse.
Amy Winehouse, at age 27 found dead at her North London home.
What may have made Amy Winehouse great may have also killed her…
Media reports out of London suggest that what may have caused the troubled singer, Amy Winehouse's untimely death this past Saturday afternoon may have been the result of her ingesting a lethal combination of narcotics which included ketamine, ecstasy and cocaine, this on top of another session of heavy drinking.
dailymail.co.uk: The source told the newspaper: 'Amy seemed determined to have a big one on Friday night.
'She was out in Camden on Friday evening, but seemed determined to carry on the party back at her flat.
'None of us know who was with her into the early hours of Saturday. But getting out of it was clearly her main priority of the night.'
Another source from one Camden pub told the tabloid that they had also seen Amy buying cocaine from a well known dealer in the area.
Meanwhile, friends of the star told the Sunday Mirror that they believe she died from a 'bad' ecstasy pill mixed with a large amount of alcohol.
By now no secret to most people, in fact Ms Winehouse openly acknowledged and flaunted her substance abuse, it seems that what may have caused Ms Winehouse's death may have been just another session in her mind of 'going to town,' except this particular session may have been a particularly onerous one in lieu of the veracity of the ecstasy pill (the use of has been noted in many instances to lead to cardiac arrest especially if the composition of the particular drug is questionable) and other substances which may have amalgamated into a lethal overdose. This on top of a recent diagnosis of emphysema, the result of heavy smoking and crack cocaine use certainly didn't augur well.
Making matters worse, reports suggest that the singer, who had been teasing the public with her great talents, but of the last few years rarely delivering on them, was said to be inconsolable off the back of the demise of her latest love affair with on and off boyfriend, film maker, Reg Traviss. It was said that Mr Traviss had ended the relationship after Ms Winehouse failed to get a grip of her substance abuse, leading her to once again briefly check into rehab after the relationship's demise before seriously relapsing upon the realization of the abrupt ending of their relationship had set in.