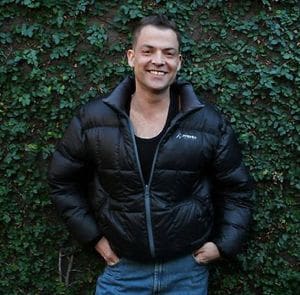 It must be difficult having a brother like Mel Gibson.  Time after time, Mel's come across as a maniacal prick: there was the time he got pulled over and called the lady-cop "sugar tits"; the 1991 interview where he was asked about gays so he laughed, turned around, pointed to his ass, and said, "They take up there.  That's for shitting"; the anti-Semitic comments; the and of course, those voicemails to his wife Oksana that would be hilarious if they were no so disturbing.  (My personal favorite: "I WILL BURN YOUR HOUSE DOWN, BUT FIRST, I DESERVE TO BE BLOWN!")
It does come as a surprise, then, that Mel's adopted brother Andrew, 43, is coming to his defense.  In an interview with The Sunday Times, Andrew responded to the most recent voicemail incident, saying, ""When I heard them I just thought, 'That isn't Mel'. He has never said anything abusive, aggressive or racist in his life'".
Then, about the homophobic 1991 interview, Andrew claimed, "'He never meant to upset anyone. I have never once heard anything anti-gay come out of his mouth.'"
Well, maybe not to Andrew himself.  After all, there has been some distance between the family for some time.  Andrew says this about his experience coming out:
"'I was at a family dinner at Aria restaurant when I told Mel. He just said, 'It's not my choice, but I love you and you're my brother'."
"'I distanced myself and they didn't come after me. It was a very difficult time. They didn't like my choice of boyfriends they wanted me to go out with a Country Road queen and I like strong, dangerous men.'"
Strong, dangerous men—why would Mel have a problem with that?
Regardless, no matter who comes to Mel Gibson's defense—his brother, Jodie Foster, whatever short-sighted gay he can bribe for support—the evidence that he is raging maniac is too overwhelming to deny.  If a person does not make a racist, homophobic, sexist, anti-Semitic, or otherwise belligerent comment to you personally, that does not necessarily mean he or she is a still a worthwhile person.  One can rely on lived experience, or one can open their eyes to reality.  Mel Gibson's nuts.
That said, isn't he just the most entertaining psychos in Hollywood today?
MAD MEL WANTS TO TELL YOU HE DID SLAP OKOTOKI- FOR HER OWN GOOD.
MEL GIBSON 'FURIOUS' OVER LOSING HANGOVER CAMEO, MORE RAGE TAPES TO COME?
MEL GIBSON NOW WANTS TO TELL YOU HE HAS NO MONEY!
2010 DOES NOT LOOK LIKE A GOOD YEAR FOR MEL GIBSON.
DID MEL GIBSON KNOCK HIS GIRLFRIEND'S TEETH OUT?