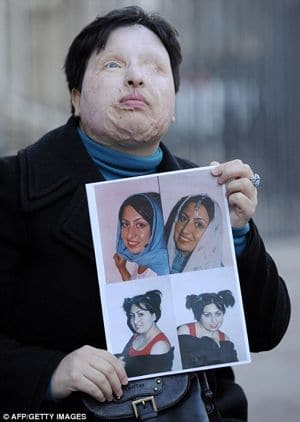 Majid Mohavedi was  destined to have 20 drops of acid injected into both of his eyes today at noon, but has for the time being had his punishment as decreed by an Iranian court postponed at the 11th hour. But that may all change, if the victim, Amemeh Bahrami,  of his original attack on her which saw her badly disfigured and blinded gets her way. She of course aims to affect 'literally' the eye for an eye punishment which has been standard standard fare in Iran since 1979, pursuant to the Islamic revolution.
dailymail.co.uk:  Mohavedi was convicted after he threw acid at Bahrami's face, blinding the then 24-year-old electronics graduate in both eyes.
Movahedi attacked her at a bus-stop in 2004 after he had begged her in vain to marry him.
For months he had stalked her and she was left blind and disfigured. She later underwent 19 operations.
The court awarded her £19,000 in compensation and Majid went to jail. But Ameneh did not want the money.
She wanted her attacker to suffer the same anguish she was forced to endure for more than six years.
And yet the court for the time being has interjected. In the interim Ms Ameneh and her family have received death threats for their steadfast resolve to have Mr Mohavedi served the same fate she has been dealt with.
Arrangements had been made for Ameneh to inject the acid into her attacker's eyes as he lies in a Tehran hospital under an aesthetic at midday today. Twenty drops in each eye.
She was quoted as saying: 'I'm very happy. After six years I'm getting justice. But we are both losers because we have both suffered greatly.'
Could one physically imagine sitting there in a hospital bed waiting for their victim to administer the eye drops? And what about Ms Ameneh, wiill exacting this type of punishment heal the deep wounds and injustices that have been dealt to her? Wouldn't she on some level be continuing the cycle of violence that she seeks to address? Which is to say- does violence beget justice, or to be even coarse- does Ms Ameneh now not become the very criminal that she wishes to repudiate?
For the time being the Iranian courts have not disclosed why they have postponed the sentence, but for their part Amnesty International has urged Iran not to carry out the sentence. Time will tell if Mr Mohavedi will keep his eyesight, and more importantly if Iran chooses to adapt to Western doctrine which one supposes it must be wearily considering…