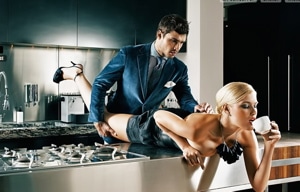 Isn't wonderful that women have resumed their role as the dominated willing species?
Suit Supply a dutch fashion outfit has recently come out with its new advertising campaign and what a doozy it is kids.
Harking back on an article we wrote late last year 'Violence in advertising,' the campaign does a stellar job of slickly seducing us with some patriarchal brutal themes that some of us more enlightened souls managed to move past. But Suit Supply wants to remind us at the end of the day we are base souls whose principal actions and motives are centered on the domination of the opposite sex.
Shouldn't you be rushing to buy a Suit Supply suit too?