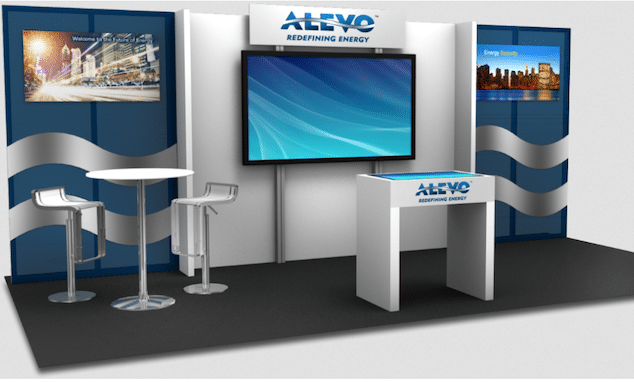 Trade Show Display Mistakes and how to avoid them. Participating in market trade shows is all about having a direct impact on potential customers and keying on winning strategies and avoiding pitfalls. 
Participating in a trade show requires investing time and money. No wonder, participants want to see a good return on their investment (ROI). But some common trade show display mistakes often stop them from getting the ROI they deserve.
The best way to avoid mistakes is to learn from other people's mistakes, says an expert at New York Banner Stands, a leading provider of trade show displays in New York. Thankfully, most of the common banner adverting mistakes are easily avoidable. Small changes to the designing and positioning of your NYC trade show displays can go a long way. Here are four common trade show display mistakes and how to avoid them.
1. Using Too Much Text
Words on your trade show banner should help communicate your brand message, but too much text can scare away your visitors. It's tempting to include a description of your products or services on your trade show signs NY, but it does more harm than good to your trade show marketing. Keep your message short, simple and on point.
Ideally, avoid using more than seven words in your message. If you need to provide more details, use separate freestanding display stands for the purpose. Use bulleted lists, instead of long descriptions. Remember, the purpose of a trade show banner is to make a great first impression, as opposed to overwhelming your prospects with loads of information.
2. Using Cluttered Graphics
Whether you use stretch fabric pop up banner stands or canopy tents, a quick look at your trade show booth should tell your prospects enough about your brand. To that end, consider using clean and neat graphics – graphics that complement your text message. This is not to say; however, that you should skimp on the creativity of your graphic. Cut the clutter from your graphic but you can still make it creative and colorful.
3. Failing to Choose the Right Booth Staff
Your booth staffers can make or break your reputation. Once a prospect enters your booth, it is up to your staff to make them more interested in your product. Unfortunately, many companies fail to choose the right staff for their trade show booth, which results in missed opportunities or lost sales.
Make sure you choose staffers who know your products inside out. In addition to being a good speaker, they should also be a good listener. They should listen to your attendees and understand what exactly they are looking for. Your booth staff should have an open body language and the right attitude for face-to-face marketing. If you're doing a presentation your staff should know it word for word, use tech to help. You could rent ipads or a projector for them to utilise, whatever you need to get the message across. 
4. Ignoring the Booth Layout
When building a trade show booth, people often focus too much on the graphics, display banners and trade show products, but overlook the basic layout. That's a common mistake. While banners are important, it is also important to have a proper plan for how people will enter into your booth, where they will interact with the booth staff, and how much space you need to display your products or marketing materials.
Another common mistake is not using social media to promote your trade show booth. Ideally, you should announce the news on your website or social channels days in advance. If possible, share your social profile links on your display banner. That way, interested attendees can follow you instantly on their Smartphone.