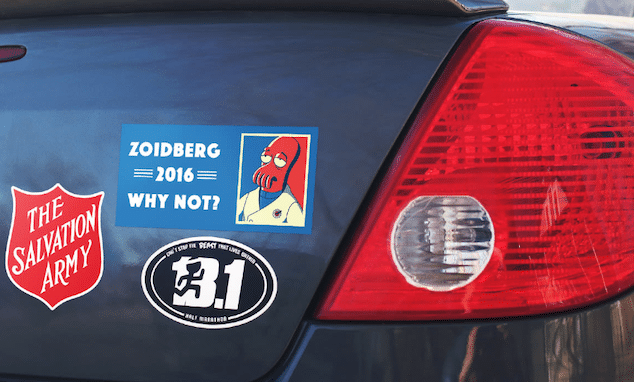 Stickers Increase Brand Recognition: Marketers reveal how enhanced brand awareness is facilitating awareness and consumer opportunities. 
Eye-catching bumper stickers can be an integral part of your marketing campaign. They have immense reach, given that wherever the vehicle travels, people will be able to see your company's name and logo. They can be used to enhance brand awareness and communicate information such as contact details, sales and hours of operation.
Custom bumper stickers are an attention grabbing and effective means of branding and offer a lot of versatility, say experts at Print Banners, a leading bumper sticker maker. Here's a look at how car stickers help in enhancing brand awareness.
    1.  A reason to love traffic jams
With thousands of cars on the roads, custom sticker printing can be one way to market to a captive audience! These custom stickers can help you grab the attention of people waiting in the traffic or even pedestrians passing by. You can send a relevant message in a cheeky way using these stickers, creating greater engagement with your target audience. Remember to keep your business' details and logo prominent.
     2.  Smart targeting
These stickers can be placed at unusual places to grab attention. Stickers can be used in the shape of footprints leading to stores, and then from the store entrance to the sale section. Similarly, pet food stores use get custom sticker printing on paw print shapes. You can find great places or products to put your stickers on, based on the products or services you offer.

      3.  Smart design
The design of the sticker is the most important part. It should be intriguing and leave an impression on the viewer. Details regarding your business should be clear and in easy-to-read fonts. Customers will get a glimpse of your stickers as the vehicle passes by, so make sure you make an instant impact. If the message isn't conveyed within a couple of seconds, the chance of converting onlookers into potential customer will be lost. With custom sticker printing, you can even get decals printed that can be used on laptops, smartphones, tablets and other items, providing more means of brand promotion.
       4.  Use engaging graphics
Use engaging graphics should be balanced with graphics that relate to the products and services being offered by your business. A person selling gaming consoles can use a famous gaming character. Graphics help you convey your message to customers who are unable to read the text due to vision problems or distance.
        5.  Be consistent
You may want to use custom made stickers on different types vehicles and locations. But, you still need to be consistent with the graphics and fonts for each sticker. Using the same slogan or keeping the color scheme consistent can help people recognize your brand easily. Remember, all your marketing material should have consistent branding to create better awareness among your target audience.
         6.  Engage the Youth
Kids love stickers, which can be used to influence their parents' purchasing decision! You can distribute stickers to kids, such that they can stick them on folders, windows, envelopes, coffee mugs and other places.
It is important that your custom bumper stickers are well designed to provide you an edge over the competition and leave a memorable impression on the customer.