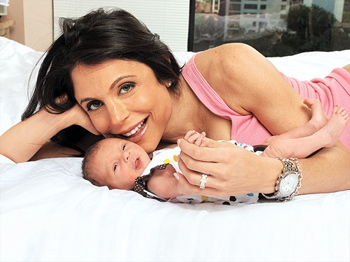 I know I'm not the only one that's been watching my clock waiting for the day that these pictures would hit the net. If I didn't know that Bethenny Frankel was the media whore she's known to be than I'd tell you that I'm surprised at how soon she's decided to show off her newborn critter…but I'm not.
It's funny how she was so pissed off when Perez Hilton spilled the beans about her pregnancy, lest how now she's letting photographers take photos of her baby Bryn Hoppy when her eyesight hasn't even fully developed yet.

So now to the dirty, is Bryn a cutey? (Face it, it's what you want to really know…) Well, you can see for yourself, no plastic surgery, no grimace, or pointy eyes, but there is something we should warn you about:


Bethenny Frankel: "She has my E.T. toes."

Should that alarm us? At least better to have dad's looks and moms toes, who knows how we'd all react if it was the other way round.

And what about Bryn's future? Can we expect to have  mom and dad whoring her out by the fall? That way the family could tell each other that they are syndicated reality stars, not withstanding the unreality of it all…

One day deep into the future children will refuse to be born unless they are guaranteed slots as reality stars.