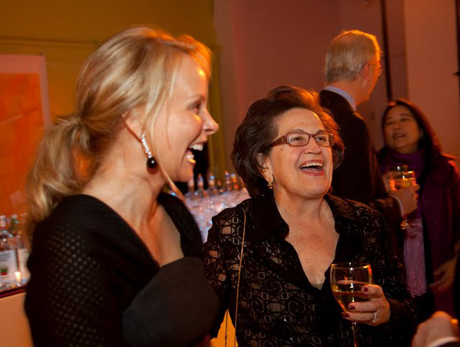 This past Wednesday night saw us embrace the re opening of El Museo de Nuevo. The event was an emotional benediction to commitment, wonder and the desire to bring prominence to the endowment of Latin Art. With both Tony Bechara (chairman) and Julian Zugazagoitia (director) enlightening and heralding the evenings dinner and festivities there was much to wonder and rejoice.
As Julian explained to me the Latin experience extends to us all as it references the universal and its themes of coming to being, discovery, acceptance and immersion. Responding to the idea that for a while Latin art wasn't considered palatable or widely consumed he notes that what started as a documentation of the Peurto Rican experience has extended to the Pan Latin experience and ultimately a national experience.
A cursory tour of the new wing titled Nexus NY dedicated to to modern Latin- American Artists found us in front of the work of Peron Osonio who had taken a traditional bed and transformed it into a metaphysical journey exploring religious and secular themes. Imbued with alternating of saints and pop icon references we are confronted with the artists particular journey and by extension our own embracing of wider culture and its juxtapositions.
I was also quite fortunate to run into the ever adorable Yazz Hernandez who we adore(who serves many roles both on the board of trustees at FIT Museum Concil, Museum of Folk Art and the Museo del Barrio) as well as the doyen of the Latin World – Carmen Ana de Unanue who along with her husband Joe have been committed to the documentation of Latin culture and the embracing of wider culture as well.
Some of the extraordinary guests included- Ruben and Isabel Toledo, Jane Gregory Rubin, Carolina and Reynoldo Herrera, Alvaro Domingo (Placido's son), Philippe de Montebello , Luis Castro, John and Gaily Beinecke and many others that I was fortunate to have met.
To say we were all inspired and moved would be an understatement. Congratulations Julian and Tony!
Go to Scallywags Photo Gallery.