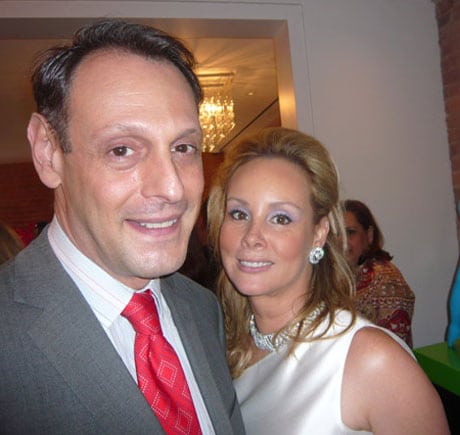 "Fabulous" people are a dime a dozen in New York, and it's not every day you see someone with such a compelling st"yle that you have to follow them, if only for a block.

Earlier this week, while walking on Madison Ave., I saw the most gorgeous cream-colored dress in the window of Barney's. I stopped and stared at its origami-like pleats before continuing on my way. Before I could get past the entrance to the store, a sophisticated blonde woman flew out of the doors, wearing the dress. I followed her down the block, and luckily she turned out to be Yaz Hernandez, one of the chairmen and organizers of the event I was going to later that evening.
El Museo del Barrio is New York´s only museum dedicated to representing Latino, Caribbean, and Latin American art and culture, and it's been recognized as the nation's premier institution for preserving the history of these cultures. That night, in preparation for their annual Gala, they were holding a cocktail party at Mauboussin, the famed French boutique jeweler. Affluent and influential Latin Americans young and old mingled amongst the sparkling colored diamonds in Mauboussin's collection while savoring mojitos made with Grand Mariner, one of the evening's sponsors.
"Your dress is gorgeous!" I said to Yaz when she had a chance to take a breath. "Is it Balenciaga?"
"No, it's Calvin Klein!" she answered. "Isn't he amazing?"
Other guests were dressed just as fabulously, hinting at the glamour to come at the Gala in May. Held at Cipriani's, the Gala I was to later find out that evening was set to bring in a who's who of society, but really who needed society when you had Yaz.
"Excuse me, don't I know you? Didn't we meet last year? You come to these things often? What was your name again?"

Resisting the urge to reveal I was press I continued to roam the room until I overheard that Ruben Toledo– one of the artists and sponsors cooperating with the Gala was set to provide art pieces for a silent auction, with the benefits going to the museum. Together with the children from the museum's Classroom Connections program, Toledo will create 68 portraits of famous Latin Americans. Each portrait will begin as a line drawing by Toledo, before passed on to each student who then contributes one feature before handing it to the next participant.
As I stood there marveling in the charmed revelry I was almost surprised when Yaz finally came up to me and tapped me on the shoulder;
'I'm just curious were you anywhere near Barney's this afternoon?"

I tried looking as straight as I possibly could shaking my head before Yaz was suddenly greeted by another well wisher.
Go to Scallywag's photo gallery.