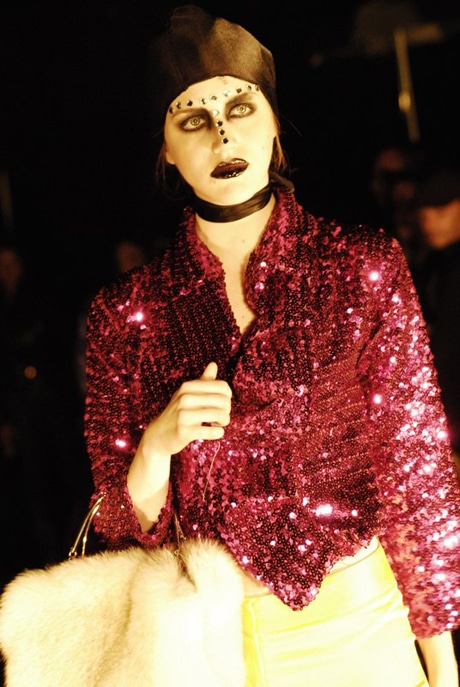 Nico and Adrian recently presented their spring 2010 collection and with sartorial elegance we were treated to high camp, mock humor, miniature dogs,  tutu dresses, muscle bound boys who spend conscious hours doing sit ups, and the veneer of black gypsy scarves atop smoldering silver emblazoned eyes.
By now a venerable favorite of the Scallywag clan Nico and Adrien had the audience in tickled delight when they sent out what by now has become iconic Nico and Adrien auteur symbol – the visage of a darling 9 year old hot to trot in mock hot fuchsia tutu and smoldering ruffles. (we have seen this little darling in the last 4 collections believe it or not…)
That was of course when the big girls started thumping down the plank, with wide strides and let's just us say no hem lines (only the brave please ) and with pop like lycra prints which tantalized the audience and had them smiling in the sartorial send up of pop culture.
From there we had the muscle boys (as alluded the sit up crunchers) who wafted in low briefs(apparently the newest commodity to hit department and specialty stores). Perhaps meant to humor us or scare us into submission the lads came out adorned in colorful shin high Doc martens that only the brave, well endowed and the cheekiest of lads would ever dare wear.
In all a delight and a flippant regard for a dizzy culture at large, we of course do look forward to seeing you trudging in those new easy riders, if that is you have the stomach for it….
Go to Scallywag's Photo Gallery.