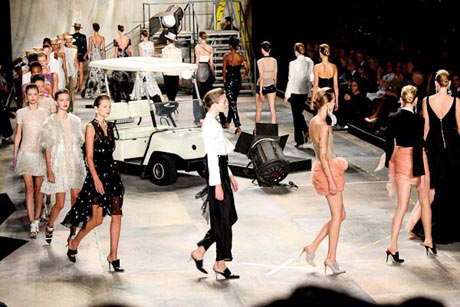 Coming to Isaac Mizrahi's show one didn't know what at first quite to make of things but given the lothario's reputation for audacity, glamour, fun and simple kitsch one soon gave up their inhibitions and basked in the brilliance of this extraordinary designer who has made a wonderful comeback in recent years.
Billing his show- 'Astaire Case or Obstacle course,' one could have easily been forgiven for having thought they had just taken a seat in a cabaret show or even better a grand Broadway production with seductive chorus girls mimicking on stage the latest fantasies and musings of the wildly insane Mizrahi (thank God he exists- the Fashion world can never get enough of credible zaniness manifested into indelible art forms).
With stage stairs, a golf cart and a rain machine the girls traversed in an airy surreal landscape zig zagging  from one side of the runway,  across it and back over diagonally sure not to get wet or run into the other stylish waifs making their imminent appearance in this post 1950's revue with it's very own cabaret music (waltz, tango or what or just super heightened department store music- yes believe it or not).
Now the clothes- just delicious, fresh and bon vivant. With sleek chiffon pants of lime and lilac colors and fitted jackets the girls pranced ever so lively on stage. With body slip brasseries, bustier tops, chic pants wrapped around the waist with floral motif and the ever present top hat and attaché case and those golf inspired shoes (delicious). All that was missing was Fred Astaire but he was there in spirit and dandy style.
With masculine inclinations and silhouettes Mizraahi emboldens the modern woman who still insists on having fun and not talking things to seriously (of course gentlemen we must always take her seriously at risk of our own peril…). In all a sumptuous collection that left us feeling like giddy kids and party to a very special collection indeed.
Bravo Mr. Mizrahi- you are here to stay and thank God for that…we need you!
Go to Scallywag's Photo Gallery.