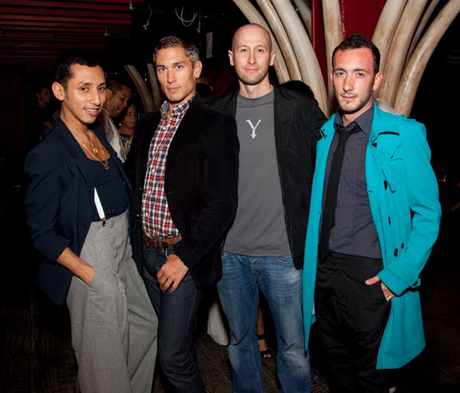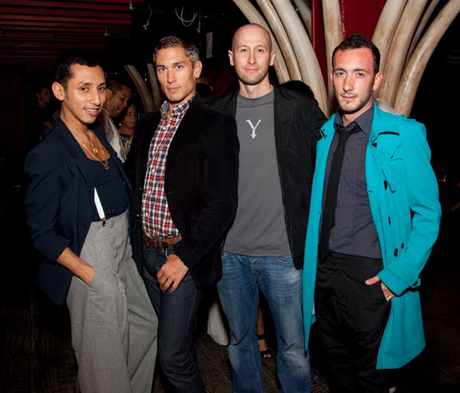 This past Wednesday night we were treated to a tantalizing event at Cain that featured the introduction of Defyance, a fashion forward fashion line and the stunning Tina Thompson who helped choreograph the dance routine that showcased the label's durability, sleekness and it's cutting fit.
Founded by former athlete Asaf Ganot, Defyance is a menswear line that utilizes innovative performance textiles to create fashionable, everyday clothing. The brand describes itself as "John Varvatos meets Nike." The result is clothing that answers to common problems urbanites encounter, especially in unpredictable weather – sweat marks, the need for bulky and unflattering layers, unexpected rain, and general discomfort from constantly being on-the-go. In addition to functionality, the brand focuses on comfort, fit and style. The inspiration for the Spring/Summer 2010 line is Brazil. Some of the pieces in the line reflect the colors of the flag (blue, yellow, green) and also incorporate detailing and graphics that draw from the São Paolo art scene.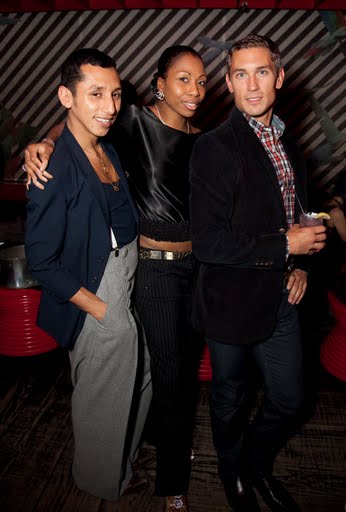 While the event didn't include a fashion show, the line's Sweat-DefyTM properties were showcased via a pre-recorded video of dancers wearing the line. The dancers, who were choreographed by Tina Thomspon of Skin Dance Company, had previously performed multiple 90 second pieces to popular hip hop songs in the middle of Times Square during the course of the day earlier. The clothing seemed to hold up, and after several performances, the clothing did not show signs of sweat.
In attendance was Richard Vorisek of Housing Works who got to tell me about his up-coming charity "Fashion for Action." Running on its sixth year, the four-day gala's opening benefit on November 19th will be hosted by Derek Lam. The benefit will be followed up by a designer sample sale (from 50-70% off) featuring over a million dollars of fashion apparel and beauty merchandise and experiences. Those already lined up to donate include Diane von Furstenberg, Diesel, Hugo Boss and DKNY. Defyance will also be making a contribution to the cause.
A special note of thanks to Elena, Benjamin and Pierre of Arsenic9 who helped make this all possible…
Go to Scallywag's Photo Gallery.