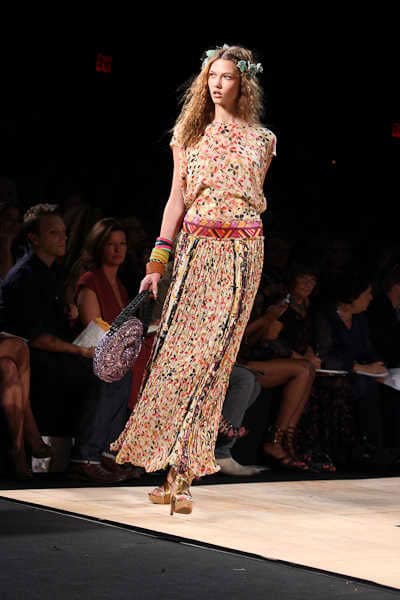 With wistful undertones, adherence to her legacy -the wrap dress and a multitude of accessories against make shift ancient temples of Luxor, Egypt, Diane Von Furstenberg wowed  the audience with her Spring 2010 Collection. In short it was a homage to the modern American woman , her playful and feminine volitions and her predilection to by gone eras which so often inspire and soothe her.
When we say Ancient Egypt we are also talking about the 70's which Diane continuously references with her accents to the youthful resplendent moxie that her girls displayed this afternoon as they pounced, swiveled and headed down the two lane runway.
With charm and elegance Diane Von Furstenburg's dresses, lusciously billowing against the Egyptian skyline could really be a metaphor of the grand dame who is basking in her prime and glory and hesitates little as she struts the metaphorical highway embracing her youth, her maturity and always her independence and fierce resolve.
With dyed chiffon and silk prints her gowns ultimately induce wonder for their stark beauty, deft handiwork and contemplation of a gentle spring where being light, supine, young and old come to those who embrace the many junctures of life and is not afraid of showing some curve.
To be sure Diane Von Furstenberg will remain in the American lexicon of most influential designers and ultimately visionary…
Go to Scallywag's Photo Gallery.