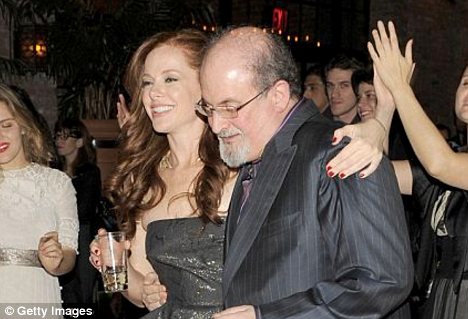 The whiff of a finely scented woman will always bring Salman Rushdie out for lunch…
First before I commence I must wish you a happy 65th birthday Salman. It has been a few months since we've had a chance to get to reacquiant with each other but then again I suspect that Mr Salmon hasn't stopped you from getting to know the town of NYC and all the available high jinks that a city like this can offer a man of your elk. Case in point last night's soiree at NY's 'Four Seasons Restaurant' which saw you Mr Rushdie amongst a congregation of close friends(guests included Hollywood stars Jason Sudeikis and Olivia Wilde, fashion designer Diane von Furstenberg) as picked for you by socialite Michelle Barish and of course a bevy of burlesque dancers. But why fault you, what man doesn't like the spark of high heels suggestively brushing against their inner loins?
Who was also there to help expedite affairs for Mr Rushdie was performance artist Laurie Anderson (partner of Lou Reed). Of course what makes last night's tete a tete even more interesting is that Mrs Barish is the ex wife of Chris Barish, a co owner of nightclub chain Marquee and the woman who declined Mr Rushdie's recent marriage proposal after the collapse of one fiasco that involved what many would wonder to be an ungrateful and disingenuous floozy. 
Nevertheless I suspect Mr Rushdie you thoroughly enjoyed your evening and were able to sufficiently find merriment in the occasion. If I could though, make one suggestion, if time and sheer will is to be found, don't be shy next time you think to invite a smorgasbord of fine women to extend an invitation to this lad. After all Mr Rushdie the readers are very much depending on a very honest account of you courting the many wonderful women of NYC that you so often find the time to meet. I'm sure they would take great joy in finding out how exactly you continue seducing the higher caliber women that are found in certain circles.
Happy birthday Mr Rushdie. I do look forward to your 66th….oh dear.