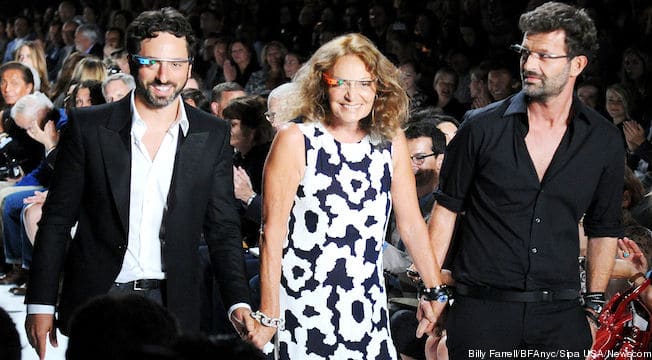 In one of the most highly anticipated shows of the IMG NY Fashion calendar, designer Diane von Furstenberg featured Google's revolutionary much talked about 'Google Glass.' A headset which according to google allows users to impose digital images on the world around them.
Her models were in fact even seen strutting in them looking rather dashing and quite futuristic.
Reports the dailymail: Several models wore the glasses as part of a project to record the show to make into a documentary due to be released later this week.
Designer Diane von Furstenberg and several of her assistants and models have been wearing Glass during preparations for the event, and their experiences are set to be edited together the video.
In a press release announcing the collaboration, Google and DVF said: 'Today we're thrilled to collaborate with the visionary and celebrated designer Diane von Furstenberg.
'For the past week, we've been using Glass to capture the DVF creative process from entirely new perspectives. 
'Soon you'll get a glimpse into what it's like to design, prepare and experience the DVF show at New York Fashion Week through Diane's eyes and a few other views.'
Offered the designer herself: 'I am so excited to introduce Glass to the fashion world and use this revolutionary technology to give everyone a unique perspective into fashion.'
Even Google co founder Sergey Brin got into the act:
"Beauty, style and comfort are as important to Glass as the latest technology. We are delighted to bring Glass to the runway together with DVF."
And how well do the glasses actually work?
abcnews: The photo above was actually taken with a pair of the glasses before yesterday's show and shared on the DVF Google+ page. On Thursday, September 13 Google and Diane von Furstenberg will premere a short film called "DVF through Glass" that will show footage from the week that has been captured with the glasses.
There's no word on whether the particular glasses given to the models and DVF team can do more than snap photos, but it's clear that Google's co-founder is excited about making Glass as fashionable as possible. "Beauty, style and comfort are as important to Glass as the latest technology. We are delighted to bring Glass to the runway together with DVF," Sergey Brin said in a statement.
The first set of the glasses are expected to ship to developers, who pre-ordered them for $1,500, in early 2013. 
And how have the pundits reacted to the glasses? I have almagamated a variety of responses. Big Brother, voyeurism, practical too or just a clever way courtesy of a media company to get you to part with your money?
I hope you can get them in prescription lenses.
I'm sorry, but no! This isn't Star Tek! How many accidents are these things going to cause because people are too busy gorming at the internet than looking where they're going. If you think mobile phones are a problem, wait until this junk comes readily available!
It's the end of the world as we know it.
Google seems to be doing it right by engaging a fashion leader early in the process. Watch out, Apple!