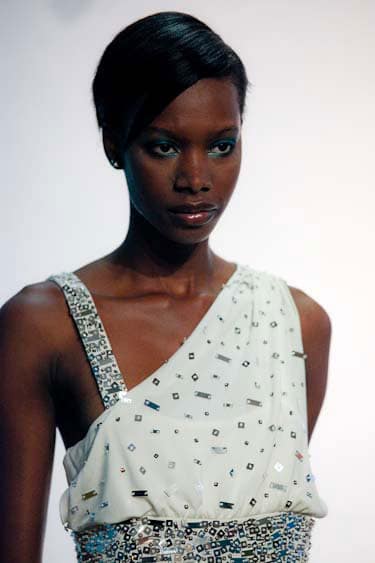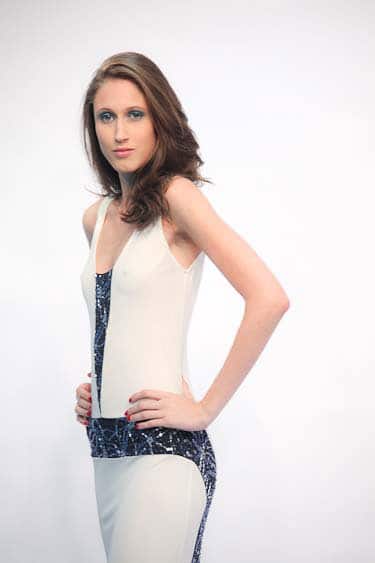 Fashion legend Stephen Burrows debuted his Spring/Summer 2010 RTW collection to a small gathering of devoted fans this week, and somehow was one of the few designers this September to seem to actually be thinking about what people want to wear as the weather transitions into something warmer.  
It's hard to name a unifying theme to Burrows' collection, but despite this it managed to cement one idea loud and clear: inclusivity. There will be few women and few occasions next spring where women will not be able to find something suitable in this collection. From the fiercely trend-conscious to the young club-goers to the mature cruise-taking set, there was something here for all. 
First, let's talk about the trends and how the Stephen Burrows collection fits into what other designers have been doing this year. Remember a few years back when all the dresses had pockets? This year the pocket-shaped skirt is back in spirit, if not in function. Seen elsewhere at shows like Boudoir D'huitres, Burrows nailed the concept marvelously with a red cocktail dress that flared just below the hips. The collection also included immensely wearable multicolored paneled dresses with a sexy back zipper. 
A few day pieces seemed inspired by Mad Men style housewifery – adorable – and eveningwear was reminiscent of sequin-dusted mermaids. For those thinking of spending their spring sailing on a luxury ocean liner to the Bahamas, this collection had white pants and shorts, floaty silk blend tops and dresses, and a few light jackets.  
This atmosphere at this show was both congenial and cultured- one could tell that many in attendance were personal friends of the designer. J. Alexander (America's Next Top Model) looked on approvingly with a fashionable and enthusiastic friend- dandy, Patrick Mcdonald.  One can't help but wonder if he was also silently judging the models' walking skills.