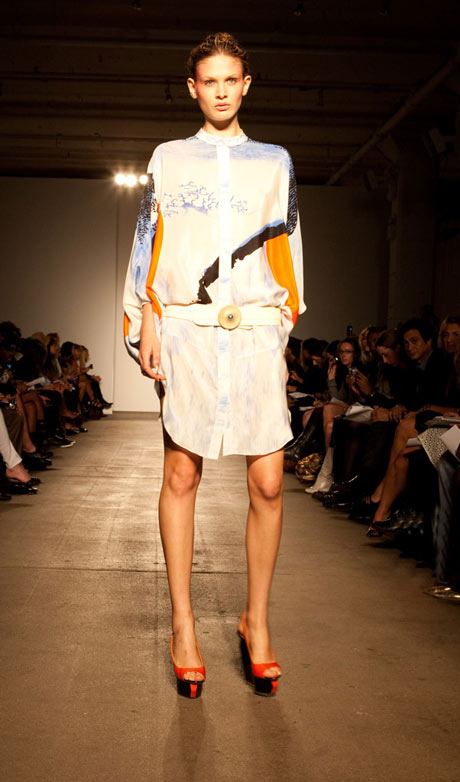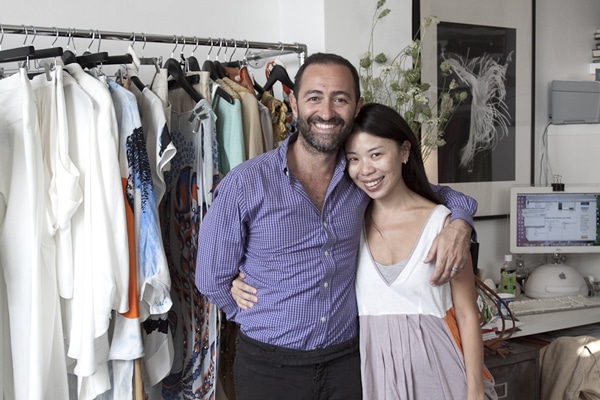 You may or may not have heard of Diego Binetti but the truth is you ought to and given the way things are going you will be hearing much more about this seemingly diminutive man who with his flair and love of the female form, fabric, charisma and élan has started to enter the daily lexicon of most important contemporary American designers. Bowled over by his recent 2010 spring collection we were compelled to have Diego grant us the pleasure of his company as we attempted to come to a closer understanding of what compels this designer and why and how he has in recent times being taken the fashion world by storm…
It's a late Wednesday afternoon a week after the NY collections have just ended and for all intensive purposes you would think Diego Binetti and his crew would be basking in acknowledged adulation. But that of course could hardly be true, as we enter the atelier's showroom on 42nd and 5th avenue the phones are being heavily manned, orders being placed and new designs postulated over while his partner Ada Lee and Marion Hourcq are finalizing details for the collection which will be shown in the upcoming Paris Spring 2010 collections. Across the room his eyes gingerly wondering over the Manhattan skyline and the texture of fine crepe in his fingers stands Diego Binetti. As soon as I look up to him he is warmly greeting me and thanking me for making the trek over. Of course the irony is I should be the one thanking him for re invigorating American fashion…
SCV: We came to your recent collections and we have to tell you out of the 45- 60 shows yours still stands to memory as one of the most compelling, ethereal and sensual collections we have seen in a long time. Tell us how do you do it? 
Diego: It's not how I do it but rather I am compelled to do it. It is what defines me the flow of rhythm, nature, the way the universe reacts with me. It's the way I understand the world.
SCV: I'm curious by your background, cause I did some research and I found out that you are the son of Italian parents who raised you until the age of 16 in Beunos Aries, Argentina.
Diego: You know it's amazing. I have been so fortunate to have had so many different experiences that have informed my sensibilities, my appreciation for how the other half of the world lives.
SCV: Your mother was a seamstress, a dress maker?
Diego: Yes, I was the middle child and I used to watch her and to tell you the truth the whole thing just intrigued me, no fascinated me- the stitching, the sewing, the actual craft of making a beautiful dress. It was almost an erotic experience…I would just watch, help my mother with the embroideries and then one day I realized that I too wanted to be a dressmaker…
SCV: So what happened?
Diego: Well we moved to the United States when I was 16, and I was studying in Miami – painting and crafts. By the time I was 20 I was now living and studying design in Milan, Italy where I really learnt a lot about textiles.
SCV: This is curious. Why is it that the Italians have such a prestigious reputation when it comes to Fashion?