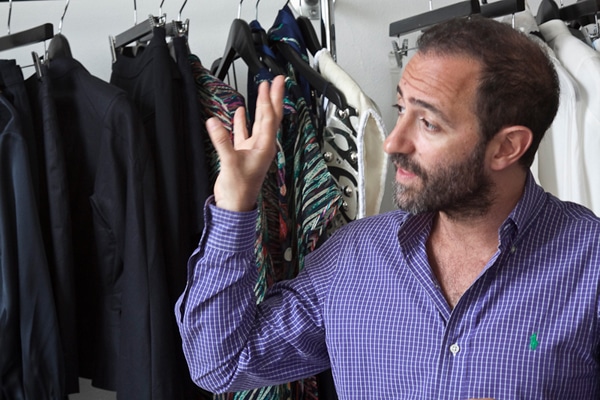 SCV: How did the Binetti line come about?
Diego: I had joined the Jill Stuart Line in the 90' s and I had been there for a little while when Jill Stuart approaches me and says to me that she wants me to take over as head designer and for the next four years I was the head designer until one day she gave me her blessing to go ahead and start my own line- Binetti. This I did with Ada in 2001.
SCV: What is the philosophy behind Binetti?
Diego: For the wearer to feel their essence. I want the collection to reflect the in and out of being. I think it's very important to be a little daring, to accentuate the sensuality, the romance, the quality of the fabric, the pain staking details that go into a beautiful piece that reflect nature and so much pride and sensual pleasure of the person wearing it. For me I like to create in nature and I think the flow of water, the sift of the air it's reflected in the feel of the clothes.  It's important in this respect to think a little out of the box but of course to always know where the box is. 
SCV: Who then is your ideal customer?
Diego: Well anyone who is free. I think someone who is well traveled, sophisticated, a little bohemian and I think very sophisticated. But to tell you the truth our perfect customer is someone who is forever curious about life because I think I will never stop to be curious and for this I will always explore…
SCV: And your second line- 'IloveBinetti?'
Diego: I had to create this to satisfy demand. The houses, the stores they kept asking me if I could come up with something for the versatile consumer, for the career woman with a little less twist and a lower price point entry. So of course here it is and we can hardly keep up….
SCV: Do you think that the American woman is afraid to be daring?
Diego: I think it's the education and what she has been shown. She is used to the classic designs of Ralph Lauren and Calvin Klein so of course she will need some encouragement but the desire is there. 
SCV: And your clientele?
Diego: Our overseas audience is tremendous and for this we are compelled to also show in Paris. We are very fortunate, we are very much adored in so many parts of the world, but Europe is one of our strongest markets.