Connor Sturgeon 13 page manifesto lists 3 underlying reasons why he went on Louisville bank shooting: to highlight mental health crises, the ease of acquiring weapons and the desire to kill himself. 
A 13 page manifesto purporting to be written by Louisville bank shooter Connor Sturgeon prior to going on a killing spree at the bank that he worked has revealed three main reasons which compelled the gunman to go on his shooting spree earlier this month. 
Sturgeon made three key points in the manifesto, according to police: he wanted to kill himself, he wanted to prove how easy it was to buy a gun in Kentucky and he wanted to highlight mental health crisis in America, the dailymail reports. 
Prior to the April 4 bloodbath at Old National Bank, which involved the killing of five fellow bank executives, shootings which Sturgeon had sought to televise live on Instagram, the 23 year old discussed the ease of legally purchasing an AR-15 assault rifle. 
Perhaps what is most shocking about the acquisition about the gun weapon was the fact that Sturgeon, according to his family was being treated for mental health issues, including, depression and anxiety. He had also been taking medication. It remained unclear what kind of medication the commercial development specialist had been prescribed.
The University of Alabama finance graduate was able to legally purchase the AR-15 in a state that does not require any form of firearms permit for eligible adults.
A Louisville banker becomes an action anti hero in front of the world
Additionally, there are no Kentucky laws prohibiting residents buying a gun if they have mental health disorders, violent misdemeanor convictions, domestic abuse-related restraining orders or anyone with substance abuse disorders.
He joined the bank in 2021 but executives were reported to have lost confidence in him as he struggled to fit in. However his family's attorney has told DailyMail.com that he did not face losing his job.
Of note, the attorney added that the family has been told their banker son was not facing the treat of being terminated at work. The threat of dismissal had been previously believed to be a catalyst in the gunman's actions.
Along with shooting dead his victims, Sturgeon was also able to act out his suicide wish, death by cop, when moments after gunning down his colleagues on a first floor conference room, he proceeded downstairs to the lobby where he awaited responding law enforcement. It was while engaging with officers that police bodycam video captured the 23 year old being shot dead.
Sturgeon's actions came as a deep surprise not only to his family, but to those who knew him, including his roommate, former masters graduate, Dallas Whalen.
On the morning of the mass shooting, Sturgeon left Whalen a voicemail saying he felt 'suicidal' and planned 'to kill everyone at the bank', a police dispatch audio revealed.
The man's lawyer maintains that Sturgeon betrayed no signs of animosity or brooding desire to hurt or let alone kill others and was at the time romantically involved with a woman.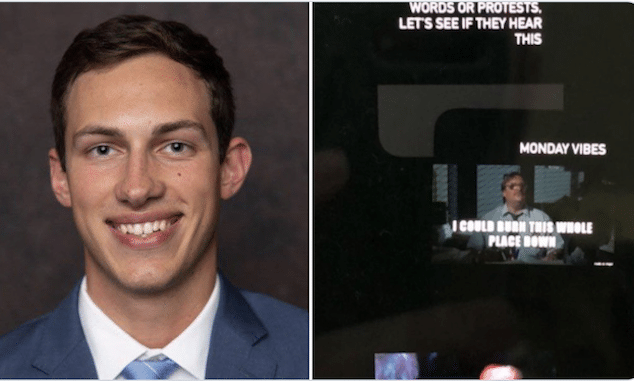 Defining oneself through violence amid social upheaval
Told Whalen via his lawyer, 'It was an unknown and surprising to Dallas as everybody.'
Reflected the gunman's parents in part, 'While Connor, like many of his contemporaries, had mental health challenges which we, as a family, were actively addressing, there were never any warning signs or indications he was capable of this shocking act.
'While we have many unanswered questions, we will continue to cooperate fully with law enforcement officials and do all we can to aid everyone in understanding why and how this happened.'
The shootings come amid a general antipathy within US society, with heightened tensions, extreme political polarities, and a society seemingly displaced in the aftermath of the coronavirus epidemic, the heightened strains of ever increasing wealth division and the ongoing display of violence and crime as a consequence. A violence and aggression which one defined the nation as a superior power and symbol of the open frontier – only to now degenerate into a made for tabloid spectacle, horror and celestial infamy – before the next mass shooting comes along and the next actor straddles the nations's collective consciousness.