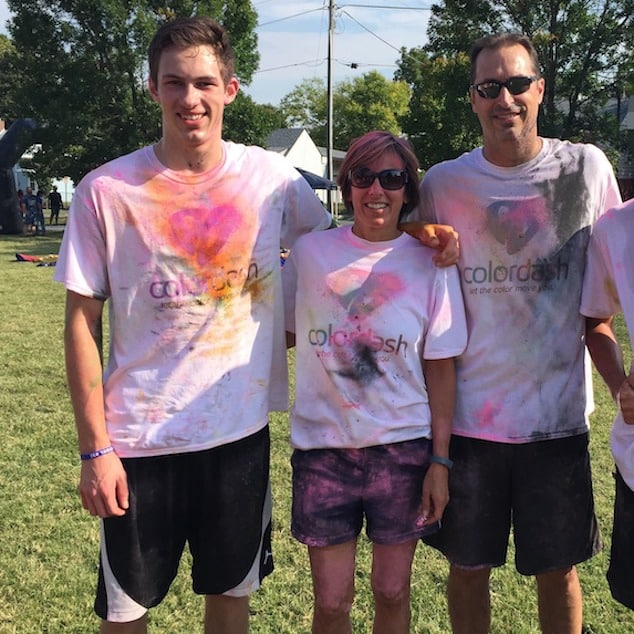 Connor Sturgeon family release statement saying he was struggling with mental health issues along with condemning Monday's Louisville mass bank shooting. Expressed never fathoming he could carry out such horrific act, that no warning signs existed. Unanswered questions remain. 
The parents of the Louisville bank shooter, Connor Sturgeon, released a statement saying their son had mental health issues, but never fathomed he could do, 'something so horrific and unthinkable.' 
'While Connor, like many of his contemporaries, had mental health challenges which we, as a family, were actively addressing, there were never any warning signs or indications he was capable of this shocking act,' the family of the 25-year-old gunman said in a statement to WDRB News.
'While we have many unanswered questions, we will continue to cooperate fully with law enforcement officials and do all we can to aid everyone in understanding why and how this happened.'
Sturgeon was killed by police gunfire after he stormed into the Old National Bank in downtown Louisville with an assault rifle and carried out the massacre. The blood letting led to the deaths of five fellow co-workers and the injuring of eighth others, including two responding cops, one critically. 
From the moment Sturgeon commenced his shooting rampage on a first floor conference room to when he was shot dead exchanging gunfire with responding officers, the whole ordeal lasted nine minutes. The shooter's final moments as he waited for police on the lobby floor after having filmed his carnage on Instagram live was captured by Louisville police bodycam video. 
Unanswered questions
Before shooting up his place of employment, Sturgeon reportedly left a voicemail for a friend saying he felt 'suicidal' and planned to 'kill everyone at the bank.' He also left letters to his roommate, Dallas Whalen and parents revealing his deadly plan, though it's unclear when the notes were discovered.
The killer's family did not say what kind of mental health challenges their son was fighting, but an ex-classmate said Sturgeon, a former student athlete, had suffered countless concussions from playing football.
In one previous statement, Sturgeon indicated awareness of his self deficiency which preempted him from fitting in.
Of note, the parents didn't elaborate what type of mental health treatment, if any, their son had been receiving leading up to Monday's Louisiana bank shooting.
Sturgeon's parents said they mourned the loss of the five victims their son killed as well as the loss of their own child and praised the officers for their bravery.
'No words can express our sorrow, anguish, and horror at the unthinkable harm our son Connor inflicted on innocent people, their families, and the entire Louisville community,' his family said. 'We mourn their loss and that of our son, Connor. We pray for everyone traumatized by his senseless acts of violence and are deeply grateful for the bravery and heroism of the Louisville Metropolitan Police Department.'
Sturgeon was reportedly on the verge of getting fired from his job as an associate and portfolio banker at his place of employment, where he was hired full time after completing three consecutive internships beginning in 2018.
Sought to live-stream unfolding bank mass shooting
Monday's tragic turn of events began as Sturgeon barged into the bank around 8:30 a.m. and opened fire with an AR-15 assault-style rifle he legally purchased days earlier while livestreaming the massacre on social media. It remained unclear why the banker had sought to live televise the unfolding blood-letting. 
Two officers were wounded in the exchange of fire with the gunman. Rookie cop Nickolas Wilt, 26, was shot in the head on the steps of the bank. He underwent brain surgery and remains in critical but stable condition. Wilt had graduated from the police academy just over a week before the shooting.
The other officer, Cory Galloway, was grazed in the shoulder.
The pair were the first officers to arrive at the scene of the shooting, just two minutes after the call came in. Galloway fired the shot that killed Sturgeon. Louisville police released bodycam footage of the fatal confrontation Tuesday.
The victims killed by Sturgeon were all employees of Old National Bank, which was not open to the public at the time of the shooting.
They have been identified as Tommy Elliott, 63, a senior vice president; Jim Tutt, 64, a market executive; Joshua Barrick, 40, another senior vice president; Juliana Farmer, 45, a commercial loan specialist; and Deana Eckert, 57, an executive administrative officer and mother of two teens.