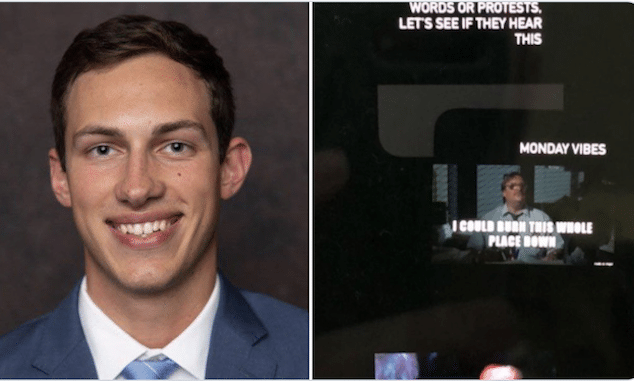 Connor

Sturgeon Louisville shooting suspect and disgruntled bank worker shoots and kills 4 dead, injures 9 on Instagram before being killed. Warned he was suicidal and was going to gun down workers at Old National Bank earlier that morning.
And again as the rest of the Western world celebrates Easter Monday. More bloodshed. More empty promises. Vigilant prayers and holding hands. The crackle of bullets, one after the other. Broken flesh and dreams gone. This time in downtown Louisville, Kentucky….
A former bank employee in Louisville, Kentucky shot and killed four individuals along with injuring another 9 individuals, including two responding police officers, after opening gunfire at Old National Bank, Monday morning. 
The mass shooting unfolded just before 8:30 a.m, downtown, near Slugger Field, the Louisville Metro Police Department said in a release. The shooting erupted at the bank's conference room on the first floor of the building as employees were in a meeting. 
The mass shooter was killed in the ordeal, after exchanging gunfire with responding cops, bringing the death toll to five. Social media identified the gunman as Old National Bank bank employee Connor Sturgeon. Hours later, Louisville Police Interim Chief Jacquelyn Gwinn-Villaroel also identified the gunman as Sturgeon. 
The 25 year old worker reportedly texted a friend before the shooting saying he was feeling suicidal and 'would shoot up the bank'. Initial indications told of the worker being called to his place of employment, despite it being closed to the public on Easter Monday, where it was thought he was to be fired. 
The Louisville Shooter Connor Sturgeon had pronouns in his bio. pic.twitter.com/MIUjhnELSO

— Cinema Shogun (@CinemaShogun) April 10, 2023
Live streamed unfolding shooting on Instagram
Police stated the shooter, had 'been neutralized,' but LMPD Deputy Chief Paul Humphrey said the circumstances surrounding his death weren't immediately known.
Sturgeon's Linkdln profile described himself as a syndications associate and portfolio banker with Old National Bank in Louisville following completion of the ONB Commercial Banking Development Training Program in April 2022. The suicidal gunman graduated from the University of Alabama in 2020.
Sturgeon handled multiple roles at once, including managing a business banking portfolio, building digital infrastructure for new syndications team, and meeting with prospective and existing clients of all sizes. Previously, he was a summer intern for 3 consecutive summers at the bank.
Netizens reported Sturgeon's Instagram profile, under the handle, @csturg41, being immediate removed, following claims that he LIVE STREAMED the unfolding shooting.
Connor Sturgeon's Instagram posts before the shooting pic.twitter.com/Lz9ikDHAgs

— Jason Riley (@JasonRileyWDRB) April 10, 2023
'They won't listen to words or protests, Let's see if they hear this.' Sturgeon posted on his Instagram account minutes before Monday morning's blood-letting.
Additionally, 'Monday vibes.' Then 'I could burn this whole place down.'
The Louisville mass shooter identified as He/Him on social media. The shooting, would come almost two weeks after another trans shooter, in Nashville, Tennessee killed six, at a private Christian school that they used to attend. 
Witness accounts
The conditions of the shooting victims weren't immediately known, nevertheless the gunman was immediately described as a 'disgruntled employee'. Define disgruntled?
Witnesses told WHAS11 they saw a man with a 'long assault rifle' fire several shots on the first floor of the bank building.
'He just started firing,' one witness said. 'I didn't see his face. We were in the conference room. Whoever was next to me got shot, their blood's on me.'
Responding officers opened fire on the gunman, according to witnesses.
The bank wasn't open to the public when the shooting erupted.
Another witness told WDRB she had stopped at the traffic lights just outside the bank when she spotted a man who appeared to be injured lying on the entrance steps.
'They were coming from everywhere,'
Then she heard gunfire.
'I didn't know if it was going at the bank or out of the bank, I took off,' she said. 'When I turned, I saw that one of the windows in the bank had been blown out.'
She said multiple law enforcement vehicles immediately swarmed the scene within three minutes of gunfire erupting. 
'They were coming from everywhere,' the witness said. 'The police were coming out of their cars with black rifles.'
Old National Bank is an American regional bank with nearly 200 retail branches operated by Old National Bancorp and based in Chicago, Illinois and Evansville, Indiana.
Anyone with information is asked to call 574 – LMPD.