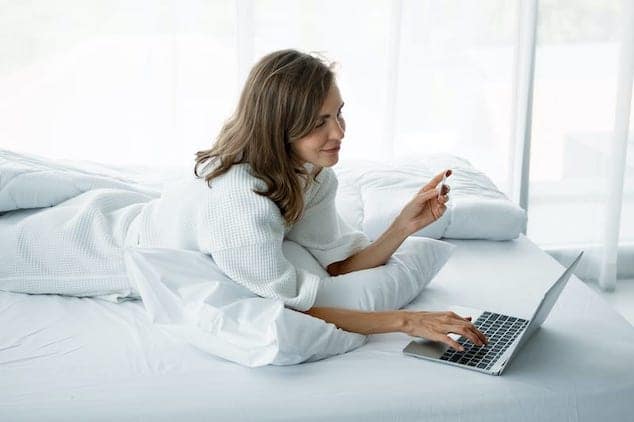 What to look for when buying a perfect mattress online. Checklist to consider includes, superior quality, budget, financing and online reviews and recommendations. 
If you're buying a new bed, it is a perfect opportunity to also replace your mattresses. Mattresses should be replaced every 5 to 8 years, and the cheapest mattresses can need replacement on an annual basis. Even if you think your mattress is in good shape, getting a new mattress completes your new bedroom furniture set.
Getting a new mattress can get pricey, but you can save a lot of money when buying at the same retail furniture store as your bed. You save even more when you buy your new bed and mattress from the same online store, where you can experience additional savings. Here are a few things to consider:
More bang for your buck
If you're on a tight budget for your complete bedroom suite, there are a lot of savings to be had when you order your mattress and furniture online. Online furniture stores offer some of the lowest prices out there, host frequent sales, and offer free delivery (sometimes with a specific purchase minimum). 
Instead of decreasing your budget and applying those funds to something else, use the leeway to select a good quality mattress online that you could get for the same money at your local bedding store. The higher your quality of the mattress, the better your sleep, your mental health, and your day-to-day life in general.
Get your mattress included on financing
A mattress alone isn't usually a large enough purchase to offer financing. Unless you are buying multiple mattresses at once, you're not going to be able to find anyone to finance. You could do your own financing if you have a credit card with a sufficient limit, but that comes with a hefty interest rate.
But when you get your mattress as a part of a larger bedroom furniture order you can usually get it included at no interest or fees. In fact, online furniture stores often offer financing the same as cash when you pay up within a certain time period, and they have no problem including your mattress in the financing agreement. 
Since the average price of a decent mattress is around $800, being able to finance your mattress gives you some additional flexibility in the budget so you can get higher quality.
Get mattress recommendations
When you order your mattress from the same place as your bed, you can more easily get recommendations on the best mattress for your new bed. There are a lot of things to consider when buying a mattress far beyond the typical twin, twin xl, full, queen, king, and California king sizes. 
If you have a platform bed, you probably only need a mattress and no box spring, which also increases your budget for your mattress. A simple traditional frame will require a box spring or a similar platform on which to rest the mattress. Other types of frames may have additional requirements.
If you want to make sure that the mattress you get is right for your bed and sleeping position, getting recommendations from the online store where you buy your bed will get you the best results. Even if you are shopping online you should be able to chat with someone if you're still not sure which mattress to get.