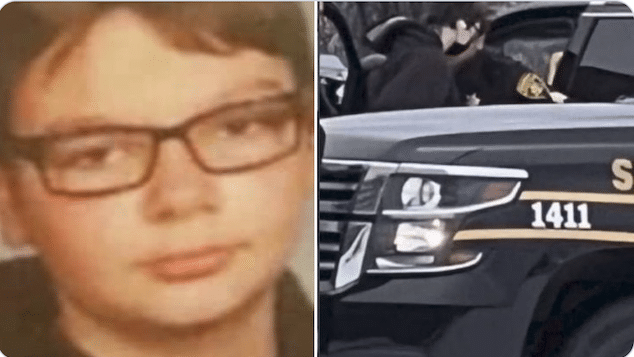 Ethan Crumbley Oxford High School shooter was bullied and posted photos on Instagram boasting new gun dad bought 4 days earlier as sophomore student is alleged to have issued count-down hours before Tuesday's attack. 
The teenage gunman who shot dead four students at Oxford High School in Michigan on Tuesday has been identified as 15-year-old sophomore 10th grade student, Ethan Crumbley. 
Crumbley lives with his parents James and Jennifer in a small home in Oxford, less than two miles from where he opened gunfire on Tuesday, killing Tate Myre, 16, Hana St Juliana, 14, and 17-year-old Madisyn Baldwin, and injuring eight others. A fourth boy, Justin Shilling, 17, died in the hospital on Wednesday morning. 
Crumbley's motive for the shooting remains unconfirmed by police but kids at the school say he was a target of ongoing bullying. 
In the days before Tuesday's attack, the teenager posted on Instagram where he boasted about his father's new Sig Sauer 9mm handgun, pretending it was his according to the Detroit Free Press.
Posted the sophomore student over the weekend: 'Just got my new beauty today. SIG Sauer 9MM. Ask any questions I will answer.'
Video of Ethan Crumbley a few years ago from dads Facebook that is still active.
Hope this kid Rots in hell. #oxfordhighschool #ethancrumbley pic.twitter.com/NKiLtGJojK

— Andrew Day (@ADayKy) December 1, 2021
Target of ongoing bullying- but did he issue threat? 
The Instagram account has since been deleted despite the proliferation of fake accounts circulating on Wednesday as Crumbley remained in police custody. Most photos of Crumbley that remain online were taken at least three years ago, when he was 12. 
Authorities swarmed the boy's parents' home, with officers Tuesday night seen removing armfuls of long-barreled guns from the house. 
It remained unclear if Crumbley knew any of his victims or if they were killed at random. Video shared on social media showing the suspect attempting to enter a classroom suggested the student had no particular targets. In that video, teacher and students were seen refusing to allow the boy in, who had pretended to be responding police. 
Authorities said late Tuesday they were made aware of social media posts saying there had been threats of a shooting at Oxford, but the sheriff said they didn't know about the rumors until after the attack.
An Instagram account bearing Crumbley's name, which has since been deleted, had the phrase 'Now I am become Death, the destroyer of world'. See you tomorrow, Oxford' written in the biography section, according to Fox 2 Detroit.
During a Wednesday press conference, Oakland County Sheriff Michael Bouchard revealed that Crumbley was not speaking with investigators at the juvenile facility where he was being held. His parents James and Jennifer have hired him an attorney who has advised him to plead the fifth. 
It continued to remain unclear if Crumbley would be charged as a teenager or an adult. Oakland County Prosecutor's Office says it has not yet received a recommendation from the sheriff's office.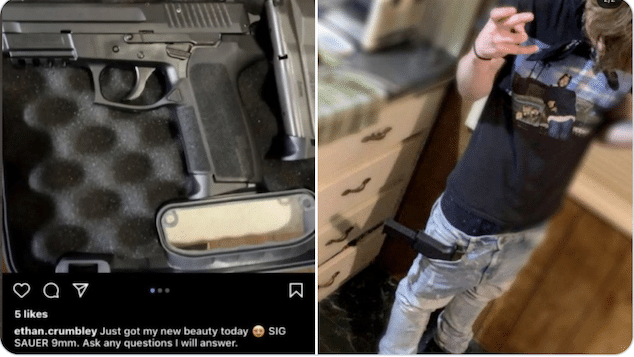 'Just got my new beauty today' 
The shooter's father bought the weapon that was used in the attack just four days ago. The teenager posted pictures of it on social media before Tuesday's attack.   
'He had been shooting with it and posted pictures of a target and the weapon. That's all part of what's being looked at. We're going to do a deep dive on the social media and all the activities of this young man,' Oakland County Sheriff Michael Bouchard said during a Tuesday night press conference. 
Students at the school described the suspect gunman as being the target of school bullying.
'I've seen him around the school. He's a kid, he's been picked on and stuff like this and when a kid has been picked on, people bullying him, you're going to get this. You're going to get this reaction,' Treshan Bryant told ABC 7 outside the school.  
The sheriff said Crumbley had no previous run-ins with his department and he wasn't aware of any disciplinary history at school ahead of the shooting.
Nevertheless new reports indicated the sophomore meeting prior to the shooting with school officials and his parents to discuss his behavior.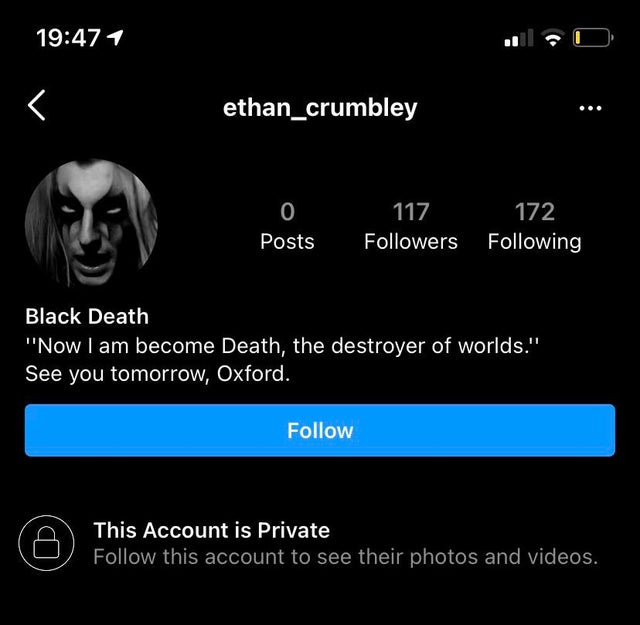 'Now I become death — destroyer of worlds — see you tomorrow Oxford.'
The 10th grade student allegedly posted a countdown on Instagram hours before the shooting, Fox 2 Detroit reported. The post read: 'Now I become death — destroyer of worlds — see you tomorrow Oxford.'
The boy's father had just purchased the gun on Black Friday, just four days before the shooting.
Police searched the family's home, and reportedly seized some items, including the shooter's phone.
The Detroit Free Press reported that some parents said they had actually kept their children home from school after the kids heard rumors of planned violence before school on Tuesday. However, no one had reported the rumors to the police.
Along with the four fatalities, eight people were injured – seven students and one teacher, a 47-year-old woman who was treated and discharged, according to the sheriff's office.
All seven wounded students remain hospitalized, some with life-threatening injuries. Police late Tuesday said four were in a critical condition including a 14-year-old girl who was fighting for her life on a ventilator following surgery for chest and neck wounds at Hurley Medical Center in Flint.  
The Oxford School shooting is the latest in a long series of U.S. school mass shootings which continue to go unabated in recent years, save for the recent lockdowns of school during the pandemic.