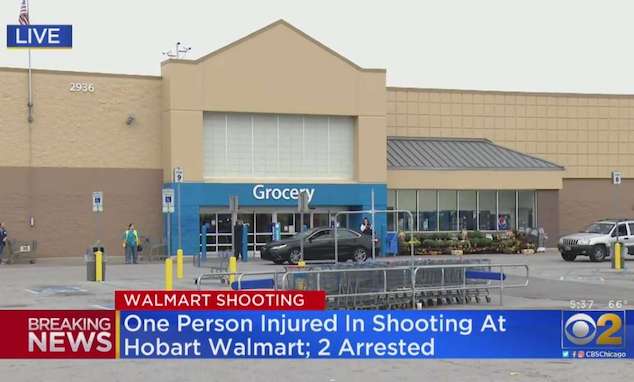 Hobart Indiana Walmart shooting leaves one person injured and two in custody following personal altercation. Latest spate of shooting incidents at the national retailer. 
A shooting at a Walmart store in Hobart, Indiana, has led to one person wounded and two men in custody, police announced on Sunday.
'There are two suspects in custody and weapons have been recovered from the scene,' the Hobart Police Department wrote in a Facebook post. 
Police described the victim being in stable condition and being rushed to a nearby hospital. At the time of the shooting it wasn't immediately clear what prompted the gunfire and whether the suspects knew the person who was shot.
'Walmart has been evacuated and the scene is secure and is being processed as a crime scene at this time,' the post added.
The nydailynews reported the 'incident' occurring at about 4:55 p.m.
'Are they really shooting right now?'
The sound of gunfire sent employees and customers running in terror.
'I was ringing out customers when we heard a pop that was super-loud, and I thought, 'Are they really shooting right now?' Walmart employee Jahla Johnson told the Chicago Tribune. 'Then I saw people just running – a woman with a baby running – and I heard the man that got shot screaming and a woman yelling, "My friend just got shot!"'
The dailymail Sunday evening cited Hobart police- saying the violence stemmed from a personal altercation between the shooter and the victim, who knew each other, quelling fears of another politically-motivated El Paso, Texas Walmart-style mass shooting.
Of note, the incident is the second shooting in less than a year at the store, located at 2936 E. 79th Avenue in the Illinois border town about 36 miles southeast of Chicago.
'The Hobart Police Department wants to reiterate that there is no danger to the public and that this was an isolated incident between known parties,' Captain Jim Gonzales said in a statement to the dailymail. 'There is no active threat at this time… No political motivation that we are aware of.'
The Indiana shooting came one day after a man went on a shooting rampage in West Texas, killing seven people and wounding 22 others in the area of Odessa and Midland, Texas.
On August 3, a gunman opened fire at a Walmart store in El Paso, Texas, killing 22 people and injuring over 20 others. The next day, in Dayton, Ohio, a shooter killed 9 people and injured dozens in 32 seconds.
Walmart stores across the U.S. have been the setting for a string of recent high-profile shooting incidents and threatened mass shootings. At least eight Walmart stores across the U.S. have been subjected to shooting threats in the aftermath of the August 3 El Paso shooting.