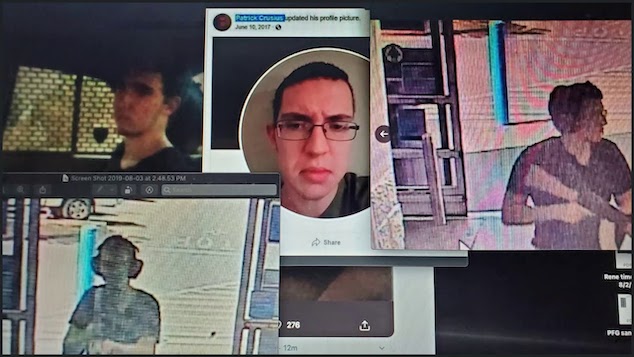 El Paso Walmart shooting suspect

Patrick Crusius

kills 19 as motive sought after mass shooting at Texas

Cielo Vista Mall. Manifesto condemning Hispanic immigration sought as possible motive.
A Texas gunman Saturday morning is alleged to have killed at least 19 people and wounded another 40 others, including a four-month-old baby after opening gunfire inside a Walmart store near Cielo Vista Mall, El Paso.
Reports told of the shooting suspect being taken into custody without incident shortly after the incident at noon and since identified as Patrick Crusius, a 21-year-old man from Dallas. 
Crusius was caught on surveillance footage walking in through the front entrance of the Walmart with an AK-47 assault rifle where he proceeded to shoot 'aisle' by 'aisle' according to witnesses cited by the Daily Beast, including one individual at point blank.
Of note, the gunman was observed wearing what appeared to be either headphones or ear defenders. Initial reports told of the gunman traveling some 650 miles from his home of Alen just outside of Dallas, Texas.
Crusius was caught after 'peacefully' surrendering to responding SWAT team. 
A manifesto purported to have been written by the suspect and possibly posted on social media hours before the shooting included anti-immigrant rhetoric with the author going into depth on why he is 'against race mixing,' supported the idea to 'send them back' and offering a prediction of 'genocide.'
More in depth reporting on Manifesto below.
AF NEWS: At least 18 people have been shot or injured inside a Walmart at Cielo Vista Mall in El Paso, Texas. A few days ago a gunman killed 2 people in a Mississippi Walmart. Not 2 weeks have passed since the Gilroy, California shooting. pic.twitter.com/6JDQ0tb3nm

— AF (@admissionfeeaf) August 3, 2019
#BREAKING Surveillance photos of El Paso Walmart shooter pic.twitter.com/DdvohmZ3oo

— Matthew Keys (@MatthewKeysLive) August 3, 2019
Take some time to honor this man. Army Specialist Glendon Oakley who saved many kids at The El Paso Walmart shooting. pic.twitter.com/wXuFV3Cmn4

— Carmine Sabia (@CarmineSabia) August 3, 2019
HAPPENING NOW: El Paso shooting witness describes scene outside Walmart https://t.co/4YDb7WiopY pic.twitter.com/MjeEPabowI

— CBS News (@CBSNews) August 3, 2019
El Paso Walmart shooting took place during fundraiser: 
The Washington Examiner reported the shooting taking place as locals had gathered for a fundraiser outside Walmart. 
The authorities have yet to officially confirm the identity of the suspect. . 
Shortly after, Sgt. Enrique Carrillo, a police spokesman, said a suspect was in custody and there was no longer danger to the public. 
KTSM-TV, reported at least 18 people being killed.  
'We heard shots and saw smoke,' said Victor Gamboa, 18, who works at the McDonald's inside the Walmart store where the shooting took place. 
'I saw a man on the floor full of blood. He appeared to be dead. It happened very quickly.' 
Gamboa said employees sheltered customers who huddled on the ground during the mass shooting.
The Manifesto reportedly from Patrick Crusius' Facebook Page.
If True, Motivation could Not be more clear. pic.twitter.com/I9iuZKErD9

— Covfefe Jones- King Of Shade👑 (@King_Of_Shade) August 3, 2019
So #ElPaso shooter Patrick Crusius said in his manifesto, "this attack is a response to the Hispanic invasion of Texas." Hm. I wonder who put that idea in his head. Let's look at his photos. Oh. #incitement #GunViolence pic.twitter.com/R2wyDcOAl6

— Tom Templeton (@TETempleton) August 3, 2019
This is the proclaimed shooter at the #ElPasoShooting, white male Patrick Crusius. This is terrorism. White supremacy terrorism. Call it as it is and act on it as it is. TERRORISM. pic.twitter.com/JWzISjFqeu

— rob (@robortuno) August 3, 2019
Patrick Crusius wanted to build a wall. Hmm pic.twitter.com/7nKXCZbTFE

— JAM CITY Antifascist Action (@JamCityAntifa) August 3, 2019
Patrick Crusius purported racist manifesto as possible motivation:
Posts on social media indicated an unconfirmed manifesto purportedly written by the alleged shooter making the rounds on various web sites, including 4chan.
The alleged manifesto makes negative references to Hispanic immigration into the U.S., criticizes both major political parties in the U.S. with the author stressing that he supports some in the Republican Party in terms of immigration policies. The writer also makes reference to alleged Christchurch mosque shooter, Brenton Tarrant.
'Even if other non-immigrant targets would have a greater impact, I can't bring myself to kill my fellow Americans,' the manifesto read in part. 'In short, America is rotting from the inside out, and peaceful means to stop this seem to be nearly impossible. The inconvenient truth is that our leaders, both Democrat AND Republican, have been failing us for decades.'
The El Paso shooting is the second mass shooting in as many weeks reportedly attributed to white supremacists. Just last week, Santino William Legan killed three people attending the Garlic Festival in Gilroy, California. That shooting and Saturday's shooting in El Paso were the latest in a growing string of attempted and carried-out mass shootings attributed to overt pro-white racism that has soared since Trump was elected.
'I was worried about those kids' Army veteran hailed a hero after rescuing children during El Paso shooting
El Paso Gunman Linkedn Profile: 'I'm not really motivated to do anything more than what's necessary to get by.'
According to Crusius' Linkedln profile – the alleged gunman in one passage dated 2015 wrote that he was not motivated to do anything other than enough to get by. Shortly after the shooting on August 3, that page was deleted heavy reported. Crusius said on that page that he attended Plano High School.
He wrote in the About section of the page, 'I'm not really motivated to do anything more than what's necessary to get by,' he wrote on the page. 'Working in general sucks, but I guess a career in Software Development suits me well. I spend about 8 hours every day on the computer so that counts as technology experience I guess. Pretty much gonna see what technology careers present themselves; go with the wind.'
When writing about his life in high school, Crusius said that he did not participate in extracurricular activities because of 'lack of freedom.'
Walmart issued a statement on its Twitter account which read: 'We're in shock over the tragic events at Cielo Vista Mall in El Paso, where store 2201 & club 6502 are located. 
'We're praying for the victims, the community & our associates, as well as the first responders. 
'We're working closely with law enforcement & will update as appropriate.' 
El Paso, which has about 680,000 residents, is in West Texas sits across the border from Juarez, Mexico.
BREAKING: Eyewitness video shows the moment Patrick Crusius is arrested in El Paso pic.twitter.com/qEG7LiXCQY

— OSI News (@OSINews) August 3, 2019